It is a well-known fact that buildings have a massive environmental impact due to their huge carbon footprint. And apart from the environment, they affect the health of their inhabitants too. Right from the time of construction and throughout their lifecycle, buildings use a huge amount of our limited resources and generate a lot of waste.
As the awareness on this aspect of the construction industry is spreading, people are opting for buildings that are 'green'. A 'green' building is a building that minimizes or eliminates negative aspects and has the ability to create positive impacts on our natural environment through its design, construction and operation. In other words, green buildings preserve precious natural resources and improve our quality of life.
What is LEED?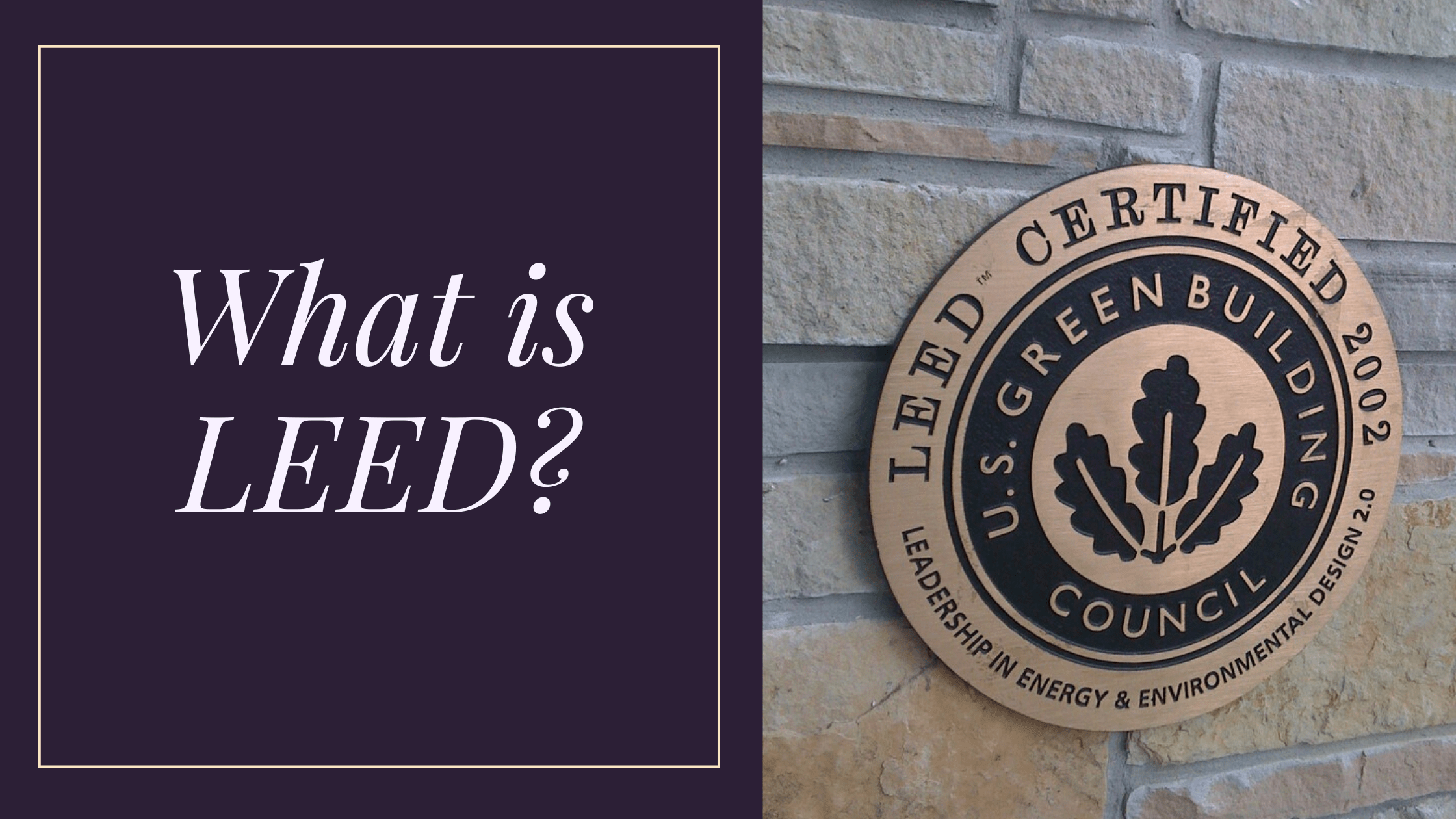 LEED is one of the most popular green building certification programs worldwide designed by the U.S. Green Building Council. It stands for Leadership in Energy and Environmental Design.
The LEED system comprises a combination of well-disciplined practices from the area of architecture, interior design, engineering, landscaping architecture and construction.
Further, LEED is flexible enough to apply to all building types – commercial as well as residential. It works throughout a building's life cycle – design and construction, operations and maintenance, tenant fit out, and significant retrofit. And LEED for Neighborhood Development extends the benefits of LEED beyond the building footprint into the neighborhood it serves.
Also Read: LEED Schools – Why Green Schools Are So Important?
LEED Certification Vs LEED Accreditation
"LEED certification" is sometimes used interchangeably to refer to both buildings and LEED professionals.  Officially, people earn LEED accreditation (or "LEED credentials") and buildings are LEED certified.
Types of LEED Certification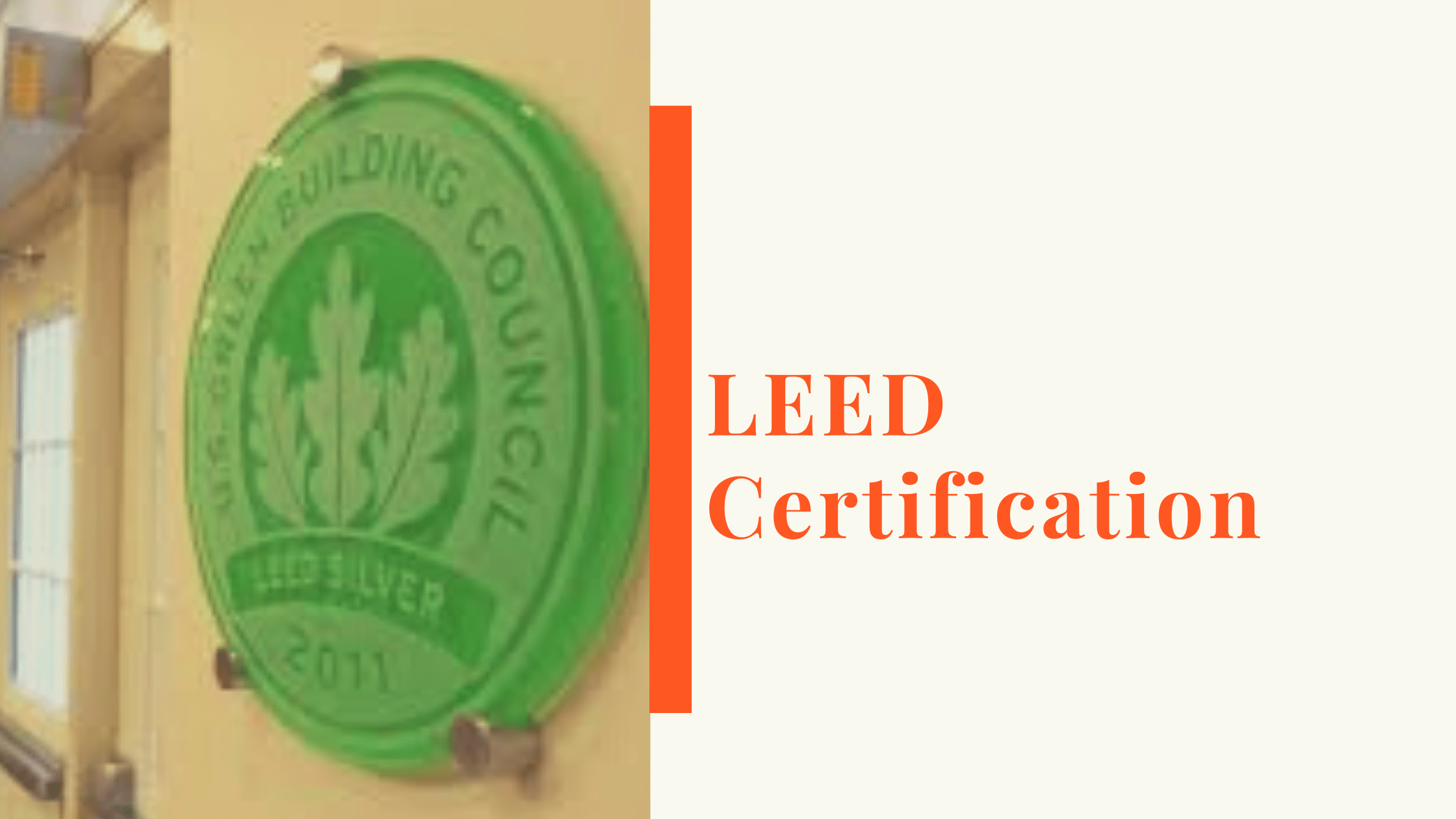 There are four different levels of LEED certification – Platinum, Gold, Silver and Certified. Regardless of the certification level achieved, all projects must meet mandated pre-requisites mentioned above.
40-49 points earns basic LEED certification, 50-59 points earns a silver-level certification, 60-79 points earns gold-level certification and 80 points or higher earns platinum certification.
The LEED Platinum level certification achieves the highest honor and the LEED Certified level achieves basic, fundamental performance.
Types of LEED Accreditation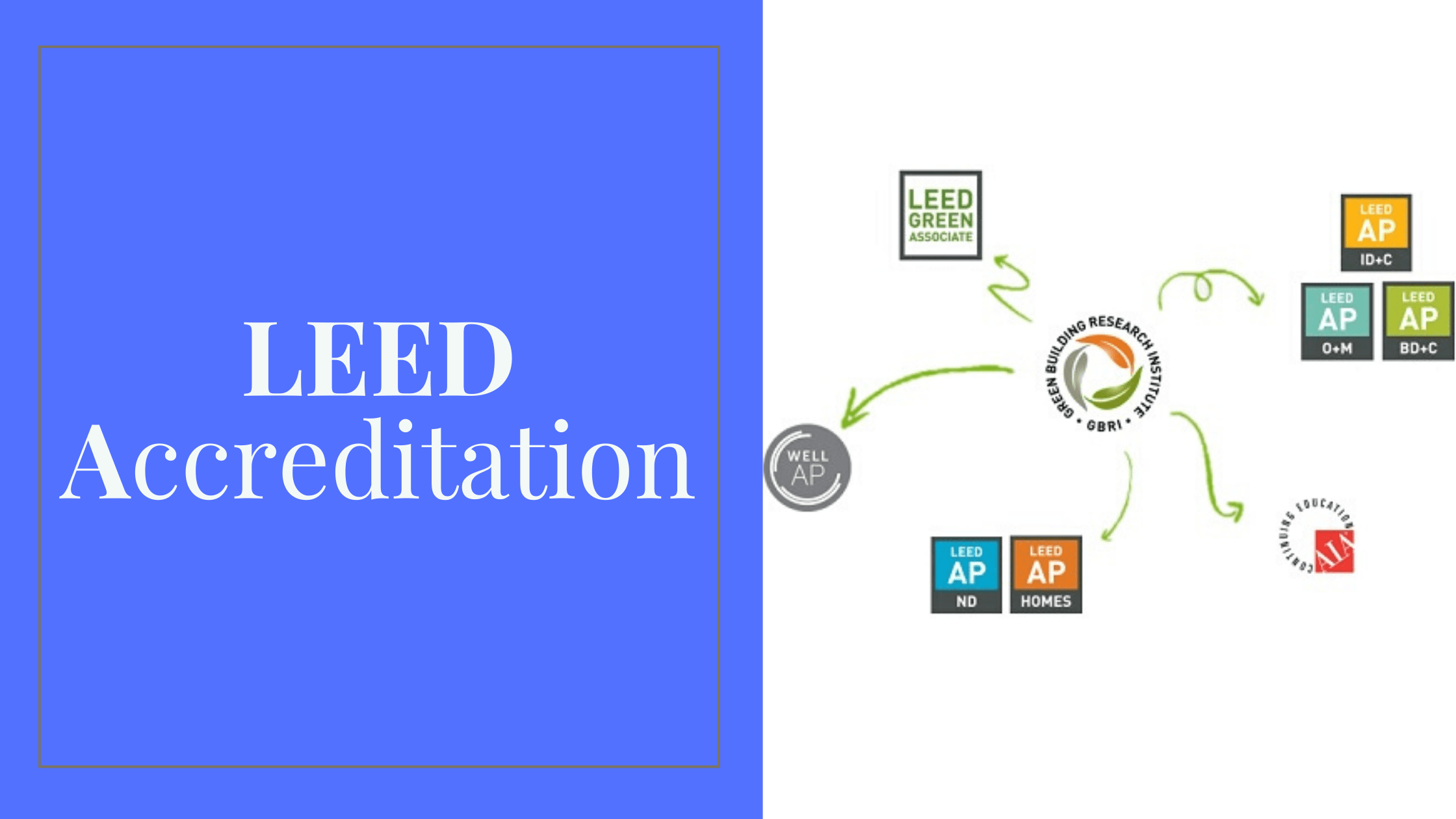 A LEED credential denotes proficiency in today's sustainable design, construction and operations standards. More than 203,000 professionals have earned a LEED credential to help advance their careers. There are three different levels of LEED Accreditation:
LEED Green Associate
The LEED Green Associate credential is for people who have a documented, up-to-date understanding of the most current green building principles and practices. This is basically a foundational credential, and for many it is the first step before earning advanced credentials such as the LEED AP with specialty.
Also Read: Who can take the LEED Green Associate Exam? Eligibility and Qualifications
LEED AP with specialty
A LEED Accredited Professional (AP) credential signifies an advanced depth of knowledge of green building practices and by extension, an even greater commitment towards sustainable building. Earning a LEED AP credential requires specializing in a specific field. The specialization of LEED designation resembles the specialization of graduate school. To gain higher levels of mastery in a subject, one must specialize. You can specialize in each of the different rating systems of LEED that are listed below –
LEED AP Building Design + Construction – This rating system includes guidelines for new buildings and old buildings undergoing major renovations.
LEED AP Operations + Maintenance – This category can be used by building owners and operators to measure operations and maintenance as well as make minor improvements.
LEED AP Interior Design + Construction – This rating system was designed specifically for tenants leasing a portion of a larger building.
LEED AP Neighborhood Development – This category integrates the principles of smart growth, urbanism, and green building into the first national program for neighborhood design.
LEED AP Homes – This was specifically designed for single and multi-family residential structures that are three stories or less.
Also Read: LEED AP Vs WELL AP: Which is More Popular?
LEED Fellow
LEED Fellows are a highly distinguished class of individuals who are nominated by their peers and have a minimum of 10 or more years of professional green building experience. LEED Fellows must also have achieved a LEED AP with specialty credential.
LEED Credits Categories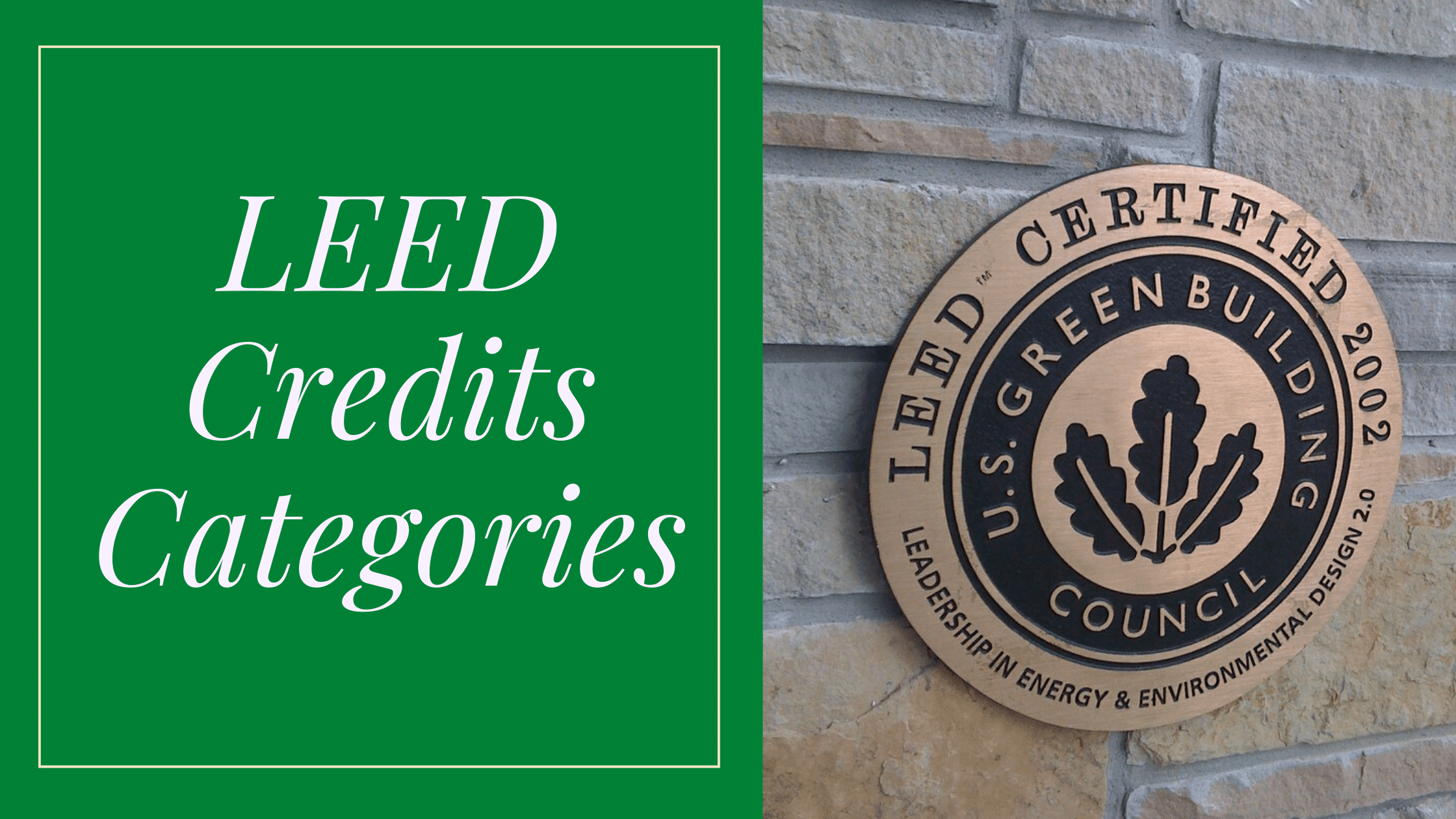 LEED certification can be achieved via a point system based on nine key classification categories as listed below:
1.     Sustainable sites
Any new construction will have an ecological impact. This category seeks to limit that impact on the building site, as well as the surrounding environment and waterways. Points are awarded for responsible site stewardship during both construction and the lifecycle of the home. For example, managing storm water runoff and erosion; safeguarding the permeability of soil; reducing construction related pollution; and by encouraging non-toxic pest control and regionally appropriate landscaping that reduces the need for irrigation. In short, this category focuses on the environment surrounding the building, awarding credits for projects that emphasize the vital relationships among buildings, ecosystems, and ecosystem services.
2.    Water Efficiency
This category awards points for installing systems that reduce water consumption and that treat water efficiently and in an environmentally sound manner. It addresses water holistically, looking at indoor use, outdoor use, specialized uses, and metering. The section is based on an "efficiency first" approach to water conservation.
3.    Indoor Environmental Quality
There are more than 80,000 known chemicals in various household products, materials, finishes, and furnishings. The most commonly found contaminants in homes include formaldehyde, carbon monoxide, radon gas, mold, pet dander, and dust. These can cause a variety of adverse health effects including allergies, asthma and respiratory illnesses. In any building structure, good indoor air quality must be achieved by removing, diminishing, and controlling any source of air pollution within the building; providing a control device for the thermostat system to guarantee comfortable temperatures; and implementing connections to the outdoor environment.
4.    Material and Resources
The Material and Resources category involves using building materials that leave less of an environmental impact on the earth, and that reduce and control waste and decrease the quantity of materials needed. It encourages the selection of sustainably grown, harvested, produced, and transported products and materials with a documented chain of custody.
5.    Energy and Atmosphere
Under this category, a building can earn points for maximizing a building's energy efficiency, for using renewable and alternative energy sources, and for adhering to ozone protection protocols. Given that this is where the energy performance of your home is determined, it is also where the greatest amount of points can be achieved.
6.    Location and Transportation
LEED encourages condensed housing and building on infill lots which serves to protect green space and environmentally sensitive areas by slowing urban sprawl. The Location and Transportation category rewards thoughtful decisions about building location, with credits that encourage compact development, alternative transportation, and connection with amenities such as restaurants and parks.
7.    Innovation
Sustainable design strategies and measures are constantly evolving and improving. New technologies are continually introduced to the marketplace, and up-to-date scientific research influences building design strategies. The purpose of this LEED category is to recognize projects for innovative building features and sustainable building practices and strategies. This category gives points for design innovations that make the structure excel beyond expectation in the rest of the categories.
8.    Regional Priority
Because some environmental issues are particular to a locale, volunteers from USGBC chapters and the LEED International Roundtable have identified distinct environmental priorities within their areas and the credits that address those issues. These Regional Priority credits encourage project teams to focus on their local environmental priorities.
9.    Education and Awareness
The Education and Awareness category encourages builders to provide homeowners with the necessary knowledge to run the systems of their home properly, and publicly promote green building and the LEED rating system. ­Builders are required to provide homeowners with a minimum one hour educational walkthrough to identify and provide instruction of the home's operational systems, as well as provide homeowners with the completed LEED checklist and accompanying paperwork, including manuals on all home systems.
Why should I get my building LEED certified?
Achieving LEED certification is the best way to let the world know that your building project is actually 'green'. It is a solid and compelling proof to your clients and public at large that you take your responsibility towards the environment seriously and that your building has been designed to minimize environmental impact.
The benefits of LEED certification are many – whether you are a realtor, architect or building your own house. For example, LEED buildings are more than likely to qualify for a variety of incentives including tax rebates and zoning permits.
They also have quicker lease-up rates and maintain higher value. Residential homes, in particular, sell faster at an increased price.
As a construction firm, deciding to build LEED projects will help you become recession-proof. This is because while the real-estate bubble is deflating slowly, there has been a 14% increase in the square footage of LEED certified properties.
Also, LEED buildings are more attractive to buyers, and facility owners are also attracted to the energy savings as well as the better indoor environment they create for end-user clients such as staff and guests.
All in all, by limiting energy use, carbon emissions and water wastage, and by improving air quality and livability, LEED strives to make the world a healthier, more sustainable place.
#1 LEED v4 Exam Prep now available with money back guarantee! Add an impressive LEED credential to your resume in as little as 5 weeks. Register Today!

With inputs from:
https://banyanwater.com/9-categories-of-leed-points/
https://sciencing.com/levels-leed-certification-7184139.html