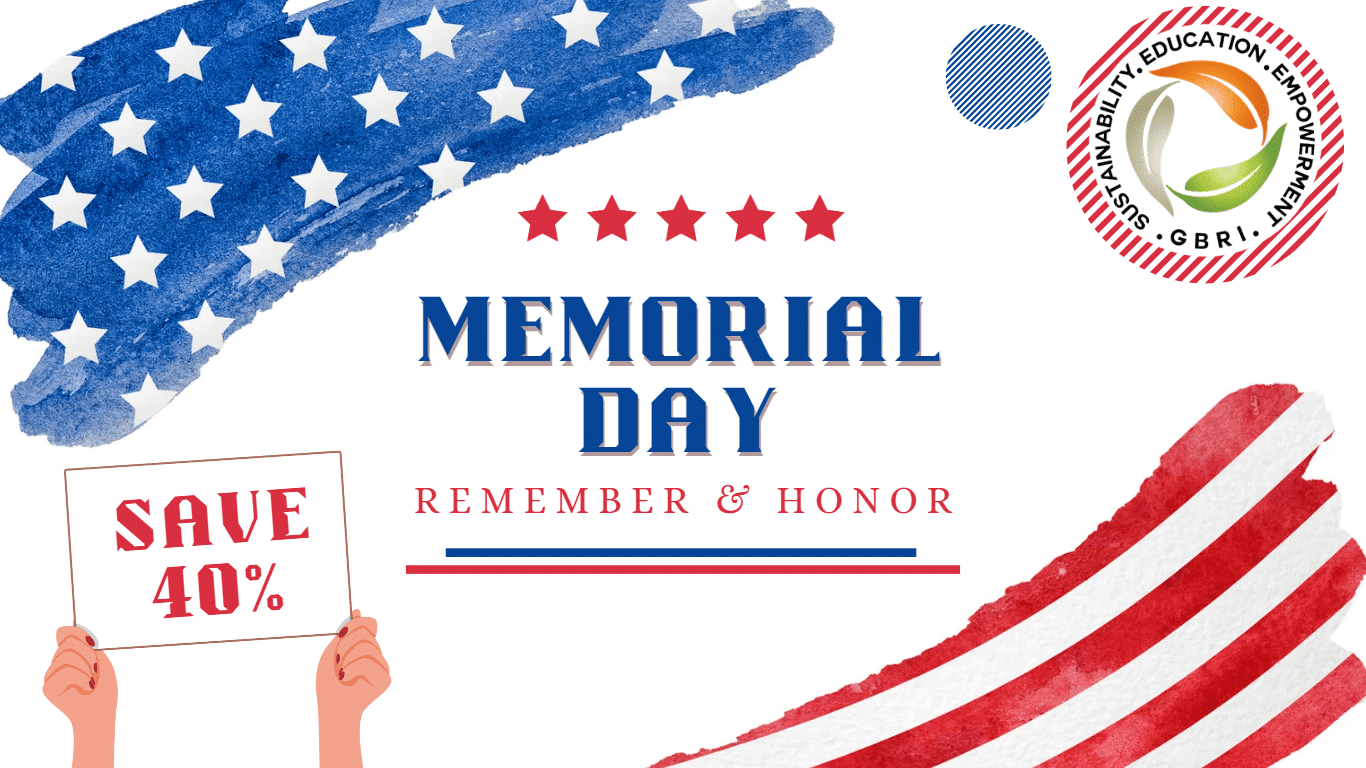 As we gather with our families and loved ones on this Memorial Day, it's important to take a moment to remember and honor the courageous men and women who have made the ultimate sacrifice in service to our country. This Memorial Day, let us come together to commemorate their legacy and embrace the values they fought to protect.
At GBRI, we are committed to building a sustainable future that honors the principles our heroes stood for. In the spirit of Memorial Day, we encourage you to explore how you can make a positive impact and create a more sustainable future.
To support your sustainability journey, we are offering an exclusive Memorial Day discount on all our Sustainability, LEED, WELL & AIA courses. For a limited time, save 30% or confirm your email preferences to unlock a 40% discount on our comprehensive courses, empowering you with the knowledge and skills to make a lasting impact in the field of sustainability.
Gain access to our entire library of on-demand CE & exam prep with a Platinum Membership, or choose from our individual CE & exam prep options below:
Access 300+ CE hours and on-demand LEED & WELL exam prep!  Includes access to LEED & WELL specific hours & AIA HSW LUs.
$174.30 
Save 30% with coupon code: REMEMBER30
15 GBCI/AIA approved CE Hours including 3 BD+C, ID+C & O+M LEED Specific CE Hours & HSW LUs, automatic reporting to GBCI & AIA.

$69.30
Save 30% with coupon code: REMEMBER30
30 GBCI/AIA approved CE Hours including 6 BD+C, ID+C, O+M LEED Specific CE Hours  & HSW LUs, automatic reporting to GBCI & AIA.
$104.30
Save 30% with coupon code: REMEMBER30
All-Inclusive LEED V4 & WELL AP Exam Prep
Everything you need to prepare for your exam with one purchase – pass your exam on your first try!
$139.30 – $244.30
Save 30% with coupon code: REMEMBER30
GBRI, a USGBC Education Partner, offers a one-stop shop for all your LEED, WELL & AIA continuing education needs.
Whether you're looking for LEED v4 Training or CE to renew your LEED Green Associate, LEED AP or WELL credential, our uniquely designed 15 and 30 hour CE memberships are guaranteed to meet all your CMP requirements, including LEED and WELL specific hours + AIA HSW LUs. Additionally, your CE activity will be automatically reported to GBCI and AIA.
" Wow! I have reviewed and taken over 20 courses by now and I have to say that this course really surprised me. It is a new way of learning. While listening to tips on memory techniques I actually learned topics of the WELL exam without noticing it. To be honest I was not 100% concentrating on the course however I could pass the quiz which tests you on WELL topics and not on the tips. Very WELL done! I highly recommend this course to everybody who thinks of taking the WELL exam."
Jeslin, I have really enjoyed working on the GBRI Social Equity project. I hope it is wildly successful. This is such a great project. I am so honored to be part of it. Thank you!
" This course is great for those who have no WELL experience as well as those with significant WELL experience as it covers the entire WELL Building Standard in plain language with case studies and examples that assist you in comprehending the preconditions and optimizations. I would certainly recommend this course to those new to WELL, aspiring WELL APs, current WELL APs, and seasoned WELL APs."
" This is a good overview course covering the specifics of the WELL standard and certification process. It gives a high level, but quite comprehensive, coverage of the standard detailing all 7 concepts and their associated features, as well as a walk-through of the certification process from beginning to end."
" The mock exam is easy to use and will gauge your knowledge of the LEED Green Associate Material. The questions are of high quality and the system is simple to use. You only have two attempts at each questions, so be prepared. All and all this is a worth while tool for an individual preparing for their LEED GA. Good Luck!".
" One of the best courses out there that looks into each feature of the WELL Building Standard in-depth which proved very useful for me during my WELL AP Exam Prep."