Energy Modeling Training from Industry Experts
Get Energized & Get Noticed with GBRI's Training Today
Elevate Your Professional Journey with Premier Energy Modeling Training! GBRI is thrilled to collaborate with Bob Fassbender and Energy-models.com, an industry luminary in energy modeling education, to offer an unparalleled suite of courses designed for today's building professionals. Whether you are an Architect, Engineer, Sustainability Consultant, or another professional in the building sector, our comprehensive course offerings will position you at the vanguard of this dynamic and rapidly evolving field.
The curriculum equips you with an indispensable energy modeling skillset—your ticket to that dream job, promotion, or successful LEED project completion. From foundational introductions to specialized LEED-centric models, we offer a tailored learning experience to meet your specific needs. Enroll now to distinguish yourself as an elite professional making groundbreaking strides in sustainability and building performance. Take the lead in energy modeling and put yourself in high demand!"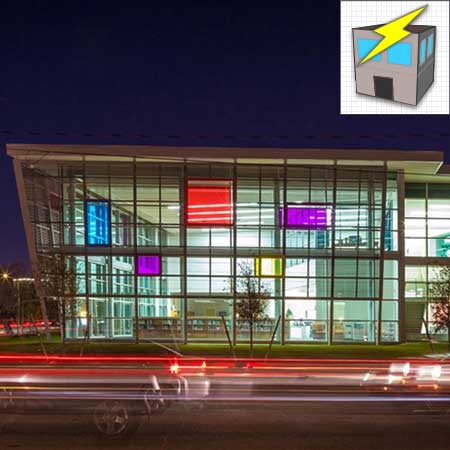 What is Energy Modeling? Answered
Discover the burgeoning field of energy modeling with a focused 1-hour course by Energy-Models.com, a leading authority on the subject. Designed to demystify the realm of energy modeling, this course is an excellent starting point for professionals in construction, sustainability, and related sectors. With an easily digestible curriculum, you'll explore what energy modeling is, its numerous applications, and how it can positively impact your projects—be it for compliance with standards like LEED or for optimizing building performance. As Fortune 500 companies are investing heavily in this technology, understanding energy modeling is becoming a critical skill. The course is not just theoretical; it provides actionable insights, outlining the data inputs required and who is qualified to perform such modeling tasks. Complete the course to earn 1 CE hour LEED specific BD+C and 1 PDH (to be self-reported), along with a certificate of completion, setting you on a path to become well-versed in this rapidly evolving field
Mastering eQUEST: Beginner to Advanced online eQUEST training series
Take your eQUEST energy modeling skills to the next level with this comprehensive training package, brought to you by our trusted partner, Energy-Models.com. With immediate, lifetime access to a complete library of video-based courses, you'll find the learning process both efficient and highly effective. Courses range from beginner-level eQUEST 101 Quickstart to advanced, real-world scenarios, saving you 80% in costs compared to individual course purchases. Interactive elements like quizzes, final exams, and a collaborative user forum add depth to your training experience. Complete the course package and earn a certificate to demonstrate your eQUEST proficiency. Exclusive for GBRI community members: Use the partner coupon code "GBRI-friends" to receive a 10% discount. Don't miss this unique opportunity to fast-track your mastery of eQUEST!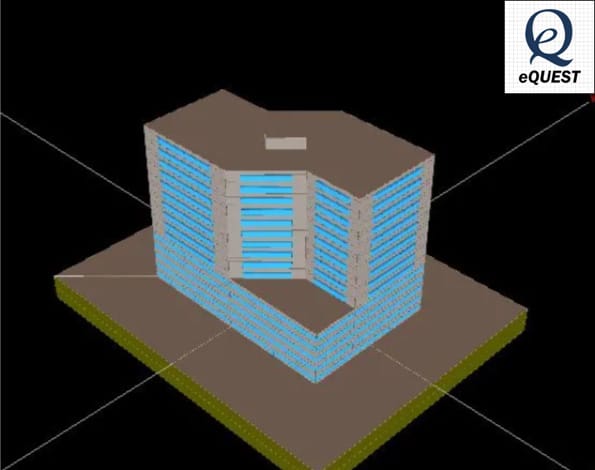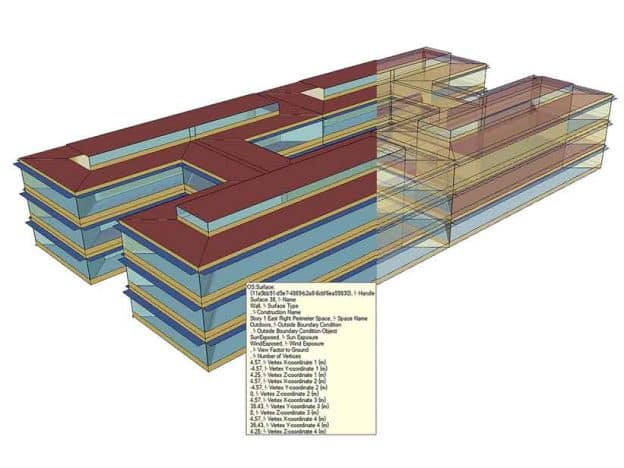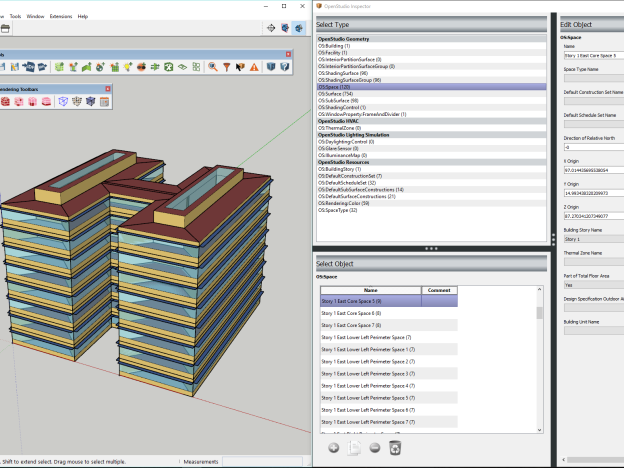 OpenStudio for Professionals
Gain an unparalleled edge in building energy simulation with our in-depth OpenStudio training program, brought to you by Energy-Models.com. From novice to expert, this course offers a structured pathway to mastering OpenStudio's robust capabilities. Learn how to create a building model from scratch, automate ASHRAE 90.1 Baseline building creation, ensure quality control, and optimize designs before construction even begins.
The course comprises eight pivotal lessons that tackle topics like 3D geometry, space properties, HVAC equipment, plant loops, and advanced high-performance HVAC systems. Each lesson is designed for hands-on learning, whether you're new to OpenStudio or looking to elevate your skills. Additionally, we offer a bonus online lesson on Sketchup, essential for effective energy modeling in OpenStudio.
p>This course is presented on our state-of-the-art interface, allowing you to ask questions in real-time and watch recordings at your convenience. Don't miss this opportunity to harness the full power of OpenStudio and deliver faster, higher-quality energy models that set you apart from the competition.
Use the partner coupon code "GBRI-friends" to receive a 10% discount on your enrollment.
Elevate your energy modeling expertise with this unique OpenStudio tutorial that mimics a real-world project from start to finish. Presented by Energy-Models.com, this tutorial bypasses mere program features to offer hands-on, step-by-step guidance on creating a complete building model. Start with a set of architectural drawings and navigate through 3D geometry creation, HVAC system implementation, material customization, and finally, result interpretation.
The tutorial covers a wide range of crucial topics, from importing 2D geometry and setting up thermal zones to implementing VAV systems and customizing output variables. Unlike traditional classroom settings, this online course allows you to learn at your own pace, minimizing disruptions and maximizing efficiency. Whether it takes you 4 hours or 2 days, this is an unparalleled opportunity to master OpenStudio in a practical, project-based environment.
Make sure to utilize the partner coupon code "GBRI-friends" for a 10% discount on this invaluable course.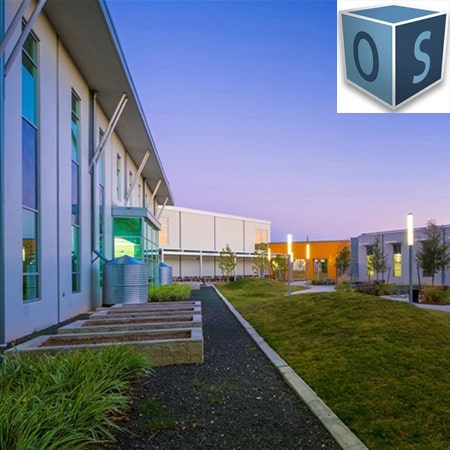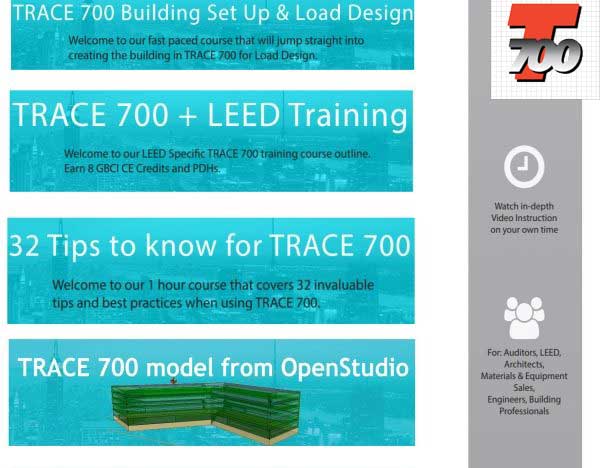 Embark on a transformative learning journey with the world's most popular TRACE 700 course, presented by Energy-Models.com. This course is designed to go beyond mere certification requirements and focus on genuine skill-building. Say goodbye to tedious PowerPoint presentations, as our hands-on tutorials are conducted within the TRACE 700 software itself. Efficient video editing eliminates wait times, allowing you to focus on learning rather than watching the software load.
Utilize features like transcripts for keyword searches and closed captions to further aid your learning process. This targeted, viewer-friendly approach has been fine-tuned based on user feedback to deliver an optimized learning experience. You'll find that you acquire 2-3 times more knowledge in the same amount of time compared to a traditional classroom setting.
Don't miss this outstanding opportunity to elevate your TRACE 700 skills. For an added benefit, use the partner coupon code "GBRI-friends" to get a 10% discount on this comprehensive course.
Understanding Energy Audit Modeling
Embark on a comprehensive journey to understand energy auditing and modeling with the "Understanding Energy Audit Modeling" course. This course is designed to empower professionals with actionable knowledge for making informed decisions on energy efficiency measures. The curriculum takes you from understanding the various levels of energy audits as per ASHRAE guidelines, to mastering the intricacies of energy modeling and calibration. It doesn't just stop at data collection and simulation; it guides you through evaluating the economic feasibility of implementing energy efficiency measures. Gain both theoretical insights and practical skills needed to produce detailed reports that facilitate data-driven, financially prudent decisions. Ideal for those committed to sustainability, the course ensures that you can navigate the complexities of energy auditing while maintaining the efficiency and accuracy that stakeholders demand.
Don't miss this essential course for anyone committed to energy efficiency and sustainable building practices. Leverage the 10% partner discount with the coupon code "GBRI-friends" and enhance your skills today!