In today's world, when people across borders are suffering from the effects of climate change and are trying to limit its impact by adopting eco-friendly lifestyles, the term 'green building' is not unheard of. Even if you are not an architect, builder or realtor, chances are high that you have heard about the concept of sustainability and sustainable architecture.
Now we all know that buildings are huge consumers of natural resources, generate a lot of waste and are high on carbon emissions. As a result, they have a massive impact on the planet and also on the health and well being of people at large.
Buildings might last 50, 75 or even more years and during their entire lifecycle, they keep consuming resources and generating waste and planet-harming emissions.
As more and more people are becoming aware of the environmental impact of these concrete structures, the sense of urgency to limit the damage inflicted by them is also rising. This is why the concept of green building is gaining so much popularity globally.
Green building, or sustainable design, is the practice of increasing the efficiency with which buildings and their sites use energy, water, and materials, and of reducing impacts on human health and the environment for the entire lifecycle of a building. Green-building concepts extend beyond the walls of buildings and include site planning, community and land-use planning issues as well.
Environmental benefits of green building:
Enhance and protect biodiversity and ecosystems

Improve air and water quality

Reduce water wastage

Conserve natural resources
Economic benefits of green building:
Reduce operating costs

Improve occupant productivity

Increase asset value and profits
Social benefits of green building:
Enhance occupant health and well being

Improve indoor air quality

Improve overall quality of life
It should be noted that green building is not just about a little more efficiency. It is about creating buildings that optimize on the local ecology, use of local materials and most importantly they are built to cut power, water and material requirements. 
Now in order to gauge how 'green' a building is, there are various green building rating systems in place. The most popular of them all globally is LEED. Let us find out what it stands for…
LEED Certification:
The acronym LEED stands for Leadership in Energy and Environmental Design, it is the most widely used green building rating system in the world. It has been developed by the US Green Building Council and provides third-party verification that a particular building or complex was designed and constructed keeping in mind the following parameters:
Regional Priority

Design Innovation

Education and Awareness

Location and Transportation

Sustainable Sites

Energy

Materials and Resources

Indoor Environmental Quality

Operations and Maintenance Costs
LEED applies to both commercial as well as residential buildings. And LEED for Neighborhood Development extends the benefits of LEED beyond the building footprint into the neighborhood it serves.
Now there are four different levels of LEED certification – Platinum, Gold, Silver and Certified. Regardless of the certification level achieved, all projects must meet mandated pre-requisites mentioned above. 
26 – 32 points earns basic LEED certification, 33 – 38 points earns a silver-level certification, 39 – 51 points earns gold-level certification and 52 points or higher earns platinum certification.
The LEED Platinum level certification achieves the highest honor and the LEED Certified level achieves basic, fundamental performance.
Please note that the reasons for pursuing a green building certification for a project might be varied. Certification can be a valuable educational and marketing tool for owners and design and construction teams through the process of creating a more sustainable building. 
Green building certification can also be a way to provide an incentive for clients, owners, designers, and users to develop and promote highly sustainable construction practices. 
However, a building does not have to be certified to be sustainable and well-built.
How does a building become LEED certified?
There are five different types of project categories under LEED – 
Building Design and Construction 

Interior Design and Construction 

Building Operations and Maintenance 

Neighborhood Development 

Homes 
So the first step towards achieving LEED certification is to identify your project type. Once you have done that, the process and application to become certified are relatively straightforward. 
However, the challenging part is to create a facility that meets all sustainable prerequisites and playing the waiting game for your application to get approved. The LEED certification process requires a set list of mandatory requirements.
Guide to LEED Certification
LEED certification involves four main steps
Register – Register your project by completing key forms and submitting payment. You'll want to make sure that your project meets all of the LEED Minimum Program Requirements. Building projects pursuing LEED 2009 certification must:
Comply with environmental laws

Be a complete, permanent building

Use a reasonable site boundary

Comply with minimum floor area requirements

Comply with minimum occupancy requirements

Commit to sharing whole-building energy and water usage data

Comply with a minimum building area to site area ratio
There are two online portals available for registration – Arc and LEED Online. Select the portal your project should use to register and pursue LEED certification accordingly.
The following projects register directly on the Arc platform:

LEED for Cities

LEED for Communities

LEED v4 Operations and Maintenance projects that plan to use the Performance Score to LEED Certification ACP
All other projects pursuing LEED certification register on the LEED Online platform.
Application – Once you've got your project registered, the next step would be to collect and submit the appropriate documentation so that GBCI may review your project. Working with your project team, you will identify LEED credits that you want to pursue and assign them to project team members. The team members will then collect information, perform calculations and analysis, and prepare documentation demonstrating your achievement of the prerequisites and your selected credits.
Once your application is prepared, upload your completed materials and make sure to perform a rigorous quality check of your entire application before submitting for review. 
Don't forget to pay your certification review fee!
Review – Once you have submitted the application and paid the certification fee, your LEED application is reviewed by Green Business Certification Inc (GBCI) thoroughly. GBCI will respond with its preliminary review within 20-25 business days, indicating which prerequisites and credits are awarded and which are marked as pending, with a request for more information. 
You can accept the preliminary review results as final if you are satisfied, or prepare new or revised documentation or attempt additional credits before submitting for final review.
Once your final application review is complete, your project team can either accept or appeal GBCI's final review report or request an additional supplemental (appeal) review.
Certify – The last but the most crucial step is, of course, being awarded the final certification report. Although the process may seem long and daunting, it is well worth having that seal of recognition for your efforts in being a greener building.
Top LEED courses: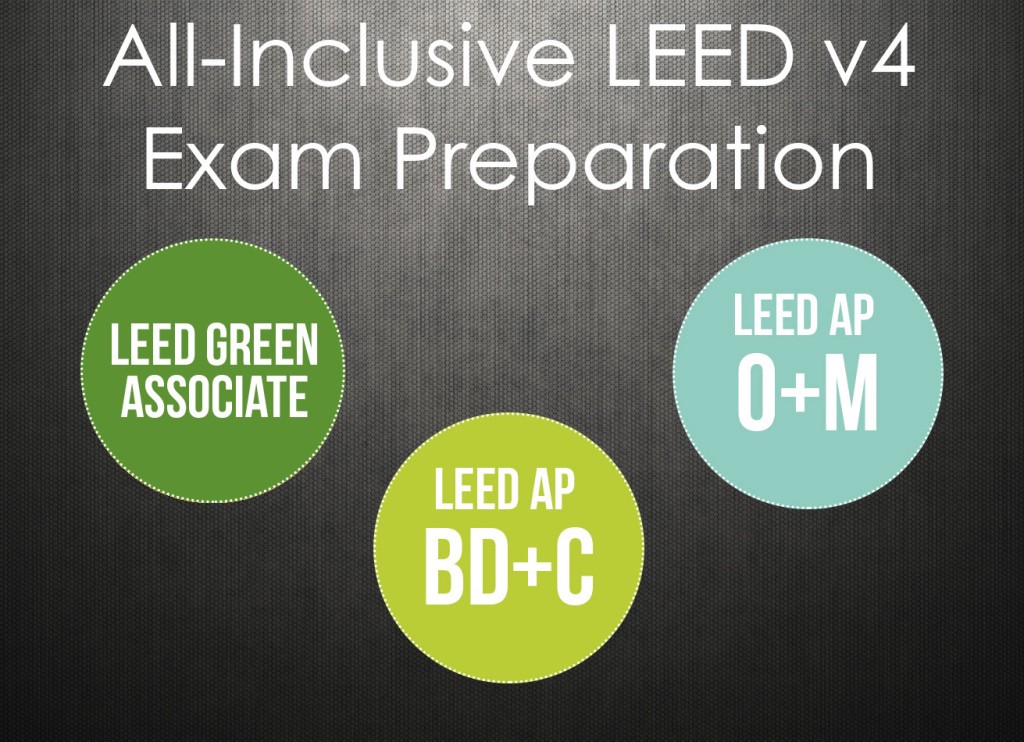 A LEED credential stands for expertise in latest sustainable design, construction and operations standards. There are two basic LEED professional courses available: 
LEED Green Associate
The LEED Green Associate credential is for people who have a documented, up-to-date understanding of the most current green building principles and practices. This is basically a foundational credential, and for many it is the first step before earning advanced credentials like the LEED AP with specialty.
Read more: How to Pass the LEED Green Associate Exam
LEED AP with specialty

A LEED Accredited Professional (AP) credential signifies an advanced depth of knowledge of green building practices and by extension, an even greater commitment towards sustainable building. Earning a LEED AP credential requires specializing in a specific field. The specialization of LEED designation resembles the specialization of graduate school. To gain higher levels of mastery in a subject, one must specialize. You can specialize in each of the different rating systems of LEED that are listed below –
LEED AP Building Design + Construction – This rating system includes guidelines for new buildings and old buildings undergoing major renovations.

LEED AP Operations + Maintenance – This category can be used by building owners and operators to measure operations and maintenance as well as make minor improvements.

LEED AP Interior Design + Construction – This rating system was designed specifically for tenants leasing a portion of a larger building.

LEED AP Neighborhood Development – This category integrates the principles of smart growth, urbanism, and green building into the first national program for neighborhood design.

LEED AP Homes – This was specifically designed for single and multi-family residential structures that are three stories or less.
For LEED Green Associate exam, you can obtain study materials from the GBCI or read through materials from GBRI, a USGBC Education Partner. Exams are administered through a proctoring company called Prometric, which has testing centers in all major cities around the world.
Once you've taken the LEED Green Associate Exam, you can take the AP exam, which is tailored to a specific LEED rating system.
There is no time span required between taking the LEED Green Associate and AP exams, as long as you keep your Green Associate credential active and current; you can schedule them back-to-back if you prefer. But you are required to pass both the LEED Green Associate Exam and the AP exam to obtain the LEED AP credential.
Read more: How to prepare for the LEED AP Exam
Benefits of LEED Certification:
Achieving LEED certification is the best way to let the world know that your building project is actually 'green'. It is a solid and compelling proof to your clients and public at large that you take your responsibility towards the environment seriously and that your building has been designed to minimize environmental impact.
The benefits of LEED certification are many – whether you are a realtor, architect or building your own house. Some of them are listed below:
LEED buildings are more than likely to qualify for a variety of incentives including tax rebates and zoning permits. 

They have quicker lease-up rates and maintain higher value. Residential homes, in particular, sell faster at an increased price.

LEED certification also helps boost press interest in your project.

As a construction firm, deciding to build LEED projects will help you become recession-proof. This is because while the real-estate bubble is deflating slowly, there has been a 14% increase in the square footage of LEED certified properties. 

LEED buildings are more attractive to buyers, and facility owners are also attracted to the energy savings as well as the better indoor environment they create for end-user clients such as staff and guests.

Because LEED certification implies environment-friendly buildings, it can be a big boost for the image of both a building's owner and for a contractor who designs and/or constructs LEED-certified buildings.
All in all, by limiting energy use, carbon emissions and water wastage, and by improving air quality and livability, LEED strives to make the world a healthier, more sustainable place.
With inputs from: