Leadership in Energy and Environmental Design (LEED) is a third party verification system for green buildings developed by the U.S. Green Building Council (USGBC). For centuries, operation of buildings and the construction of new buildings have had a negative impact on the environment.
As more and more people are becoming aware of this aspect of construction and as the threat of climate change has started to look very real, builders and building owners alike are now turning to LEED to assist them in retrofitting and designing more environmentally conscious buildings and communities.
Today, the demand for LEED certified buildings has increased dramatically. The combined effects from growth in environmental legislation and the demand from tenants and shareholders to reduce environmental impacts are requiring property managers to both understand and take responsibility for the environmental performance of their facility.
What is LEED Accreditation?
LEED certification is for buildings – professionals who are interested in LEED green buildings usually study the LEED standards in preparation for an accreditation exam, and upon passing the exam, they become LEED accredited.
So basically, LEED accreditation is the process of passing LEED exams and earning a LEED Green Associate credential or a LEED Accredited Professional (AP) credential, depending upon which exam you decide to take.
There are three different levels in the LEED professional credentials program: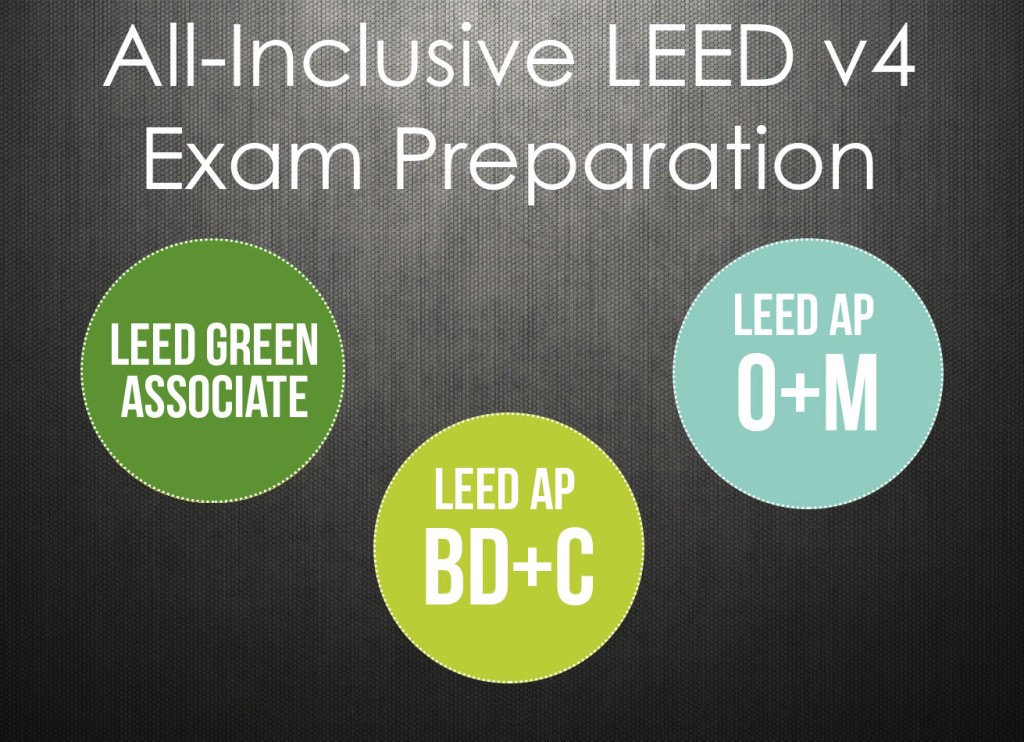 LEED Green Associate
The LEED Green Associate credential is for people who have a documented, up-to-date understanding of the most current green building principles and practices. This is basically a foundational credential, and for many it is the first step before earning advanced credentials such as the LEED AP with specialty.
Read more: How to Pass the LEED Green Associate Exam
LEED AP with specialty
A LEED Accredited Professional (AP) credential signifies an advanced depth of knowledge of green building practices and by extension, an even greater commitment towards sustainable building. Earning a LEED AP credential requires specializing in a specific field.
Please note that the first step to becoming a LEED AP is to earn the LEED Green Associate credential. Once you have passed the LEED Green Associate exam, you can choose to pursue one of the five LEED AP specialty credentials (more on that below). Candidates can also take both LEED Green Associate and LEED AP exam in one sitting, or separately.
LEED Fellow
LEED Fellows are a highly distinguished class of individuals who are nominated by their peers and have a minimum of 10 or more years of professional green building experience. LEED Fellows must also have achieved a LEED AP with specialty credential.
LEED AP BD+C Credential
As mentioned above, earning the LEED AP credential requires specializing in a specific field. The specialization of LEED designation resembles the specialization of graduate school. To gain higher levels of mastery in a subject, one must specialize. You can specialize in each of the different rating systems of LEED that are listed below –
LEED AP Building Design + Construction (BD+C) – This rating system includes guidelines for new buildings and old buildings undergoing major renovations.

LEED AP Operations + Maintenance (O+M) – This category can be used by building owners and operators to measure operations and maintenance as well as make minor improvements.

LEED AP Interior Design + Construction (ID+C) – This rating system was designed specifically for tenants leasing a portion of a larger building.

LEED AP Neighborhood Development (ND) – This category integrates the principles of smart growth, urbanism, and green building into the first national program for neighborhood design.

LEED AP Homes – This was specifically designed for single and multi-family residential structures that are three stories or less.
Now let us talk about the LEED AP Building Design + Construction (BD+C) credential in detail.
This credential suits professionals with expertise in the design and construction phases of green buildings serving the commercial, residential, education and healthcare sectors. To earn it, one has to pass the LEED AP BD+C exam.
And since this LEED exam has an estimated 30% pass rate, successfully completing any LEED AP exam is not an easy task. But with the right guidance, study materials and practice tests, you can surely pass the exam with great results.
To take the LEED AP BD+C exam, you have to follow these application steps to register and schedule your exam:
Log in to your user account on usgbc.org site and then navigate to credentials. If you don't have one, you will be prompted to create a free usgbc.org site user account.

Select the LEED AP BD+C exam.

Complete the exam registration process.

Schedule exam date and location on prometric.com/gbci.
Please note that this registration is valid for one year. In that year you are allotted three registrations per exam section. After this year expires, you must wait 90 days before registering again. You may also request an extension of the one year registration period for extenuating circumstances. 
Once you are done paying your exam fees, save the code generated. Now go to www.prometric.com and use this code to choose the date, time and place for the exam. The exam is available six days a week (Monday-Saturday, 8 a.m. to 8 p.m.) at any Prometric Testing Center. 
If you are living in the US, you are sure to find the center nearby as there are usually several in each major city. If you're in an area where there is no Prometric testing center, you can contact the USGBC for alternative testing methods.
LEED AP BD+C Exam Cost
If you are a USGBC member, the LEED AP BD+C test would cost you $250. If not, you'll be paying $350 for the exam.
For combined exam (LEED Green Associate and LEED AP with specialty), USGBC members have to pay $400 while others pay $550.
LEED AP BD+C Exam Preparation Study Materials
While there is a lot of stuff available online when it comes to study materials for LEED AP BD+C, if you want the best of the lot that will help you pass the exam easily, study material from GBRI can be a great option.
GBRI or the Green Building Research Institute is a proud Education Partner of the USGBC, IWBI, and AIA. It can help you earn the LEED AP BD+C credential in as little as 7 weeks with best in-class materials, that too on your first try!
GBRI knows that it can get a bit confusing to decide what to study and what not to study while preparing for the LEED AP BD+C exam. Therefore, the institute ensures that with its carefully chosen LEED AP BD+C Exam Study Prep materials, you can never go wrong.
Their exam prep package costs $249 and includes the following study materials:
Purchase of LEED AP BD+C Exam Prep package includes LEED Green Associate package as well.

2 exam prep packages with a single purchase

 
Study Guide:

The Best Comprehensive Guide
Online Study Modules:

Access On Any Device 24×7 for 1 full year

Module Wise Practice Quizzes:

700+ Practice Test Questions With Explanations For Each Question

Flash Cards & Memory Charts:

Study On The Go For Your LEED Exam!

MP3 Audio Files:

study anytime on your phone or music player of choice

Practice Tests/Mock Exams: 3

LEED AP Practice Tests Simulated Like The Actual LEED AP Exam + 5 LEED Green Associate Practice Tests/Mock Exams
What's more, the faculty at GBRI is so confident you will pass your LEED exam by following their recommended roadmap that they back it up with a 100% money back guarantee.
How to Pass LEED AP BD+C Exam
Important tips for passing LEED AP BD+C Exam
Listed below are 9 important tips that will guide you on how to pass the LEED AP BD+C Exam-
    The first tip would be to download the free LEED AP BD+C Candidate Handbook from the USGBC website that features current policies and procedures for the LEED v4 AP with Specialty professional credentialing exams. It includes test specifications, exam references and sample questions for the LEED AP BD+C exam. This will help you direct your studies appropriately.

  Find the right study materials. Look for the various options available online. As we mentioned before, it can get quite confusing to understand what is important to study and what is not. The LEED AP BD+C Exam Study Prep materials from

GBRI

would be an excellent way to get a thorough understanding of all the necessary concepts.

  The most important tip if you want to pass this exam with flying colors would be to take loads of practice tests. Most practice tests mimic the actual exam extremely closely, so you get a fair idea of what to expect.

  It is important to memorize all the acronyms, numbers, and credits that need to be known about a week from the actual test. This will help you recall the figures easily during the exam.

  All candidates get 10 minutes before the 2-hour exam begins to enable them to get familiar with the computer and testing software. Once you are done familiarizing yourself with the way the test software works, use the remaining time to do a brain dump – that is, to write down as many things as you can remember that you think will be helpful in your exam.

  Read the exam paper carefully, and then read it again. Likewise, check and recheck all your answers. Use the 'Mark' button to flag questions you don't feel sure about. Since you get 2 hours to complete the exam, you can always come back to the 'marked' questions after you're done with the rest.

  When you feel there is more than one right answer to a particular multiple choice question, go with the 'best' answer.

  Skip difficult questions until the end. 15 of the 100 questions are unscored; so, if you come across a very difficult one, mark it and come back to it at the end. Spend more time on the ones you know and use what remaining time you have at the end on the most difficult ones. That way you don't lose confidence as you go through the exam. Plus, there is a good chance that question won't even count against you.

A very important tip is to answer every single question. If you feel unsure about a question, you can skip it at first but then go back and answer or guess at the end. Not answering a question at all means you will get it wrong.
If you keep all these tips in mind while preparing for and taking the LEED AP BD+C exam, it is highly likely that you will pass the test without any issues.
It is important to note that LEED credentials are valid for two-year periods. LEED APs with a specialty must acquire 30 hours of continuing education every 2 years to maintain their credential. In addition to continuing education hours, individuals must also pay a biennial renewal fee to the USGBC.