The LEED Green Associate credential denotes documented, up-to-date understanding of the most current green building principles and practices. It is basically the most comprehensive and high level introduction to green building techniques, providing insights into a 100+ areas of green building.
The key to earning a LEED Green Associate credential is a thorough understanding of green building practices and LEED. There are various online LEED GA exam prep resources that include study guides and practice tests (both free and paid), as well as super informative books available to help you prepare for the exam. Depending on your schedule and learning preferences, you can choose the best possible option.
For your convenience, we have enlisted below 15 best LEED GA Exam Prep Resources-
Best Books for LEED GA Exam Prep:
1. LEED Green Associate V4 Exam Complete Study Guide by A Togay Koralturk
This e-book is quite popular among LEED Green Associate aspirants. This book, along with the practice exam book, tells everything you need to know to pass the exam. It aims to provide deep insight into the principles of green building; and helps the reader to learn, rather than to memorize the essential information for the exam.
2. New LEED V4 Green Associate Guaranteed: Updated with New LEED V4 by Adam Ding
This one is a very good reference book with "flash-card" tests, end of chapter quizzes and a 100-question exam at the end of the book. Along with a few practice tests, this book might be all you need to pass the LEED GA exam. 
3. LEED Green Associate Exam Preparation Guide, LEED v4 Edition
This book is available as a hard copy as well as an e-book and has been created by the makers of the LEED Green Associate Exam themselves. The exam prep guide will help you prepare for the exam by emphasizing key terms and providing application learning through practice questions and is intended to be used in conjunction with the exam primary references, including the LEED Core Concepts Guide.
4. LEED Core Concepts Guide
Image source: Amazon
The LEED Core Concepts Guide introduces the green building fundamentals to get you started on your learning path. The latest edition features updates based on LEED v4, the newest version of the LEED green building program.
5. LEED Green Associate Exam Preparation Guide by Heather C. McCombs
Another great book with all the study material one needs to pass the exam. Pair it with some good practice tests and you are good to go.
Online LEED GA Exam Prep Resources: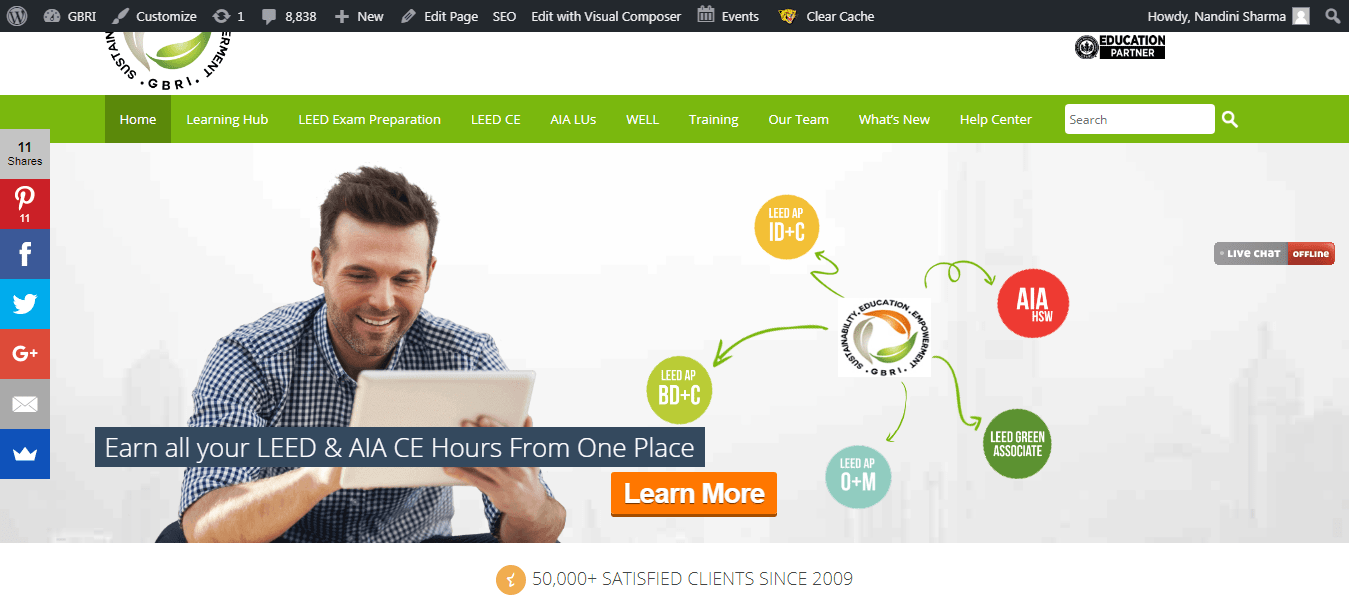 You can now ace the LEED Green Associate Exam with GBRI's best-in-class all inclusive exam prep.
With GBRI's study materials, you can earn your LEED Green Associate credential in as little as 5 weeks. Based on your schedule, attend the 4 week instructor-led live exam prep sessions OR utilize self-paced online on-demand exam prep modules. 
GBRI LEED Green Associate Exam Prep includes:
A study guide, 

5 LEED Green Associate practice tests with 100 questions (each simulated just like the actual exam), 

Flash cards,

Memory charts, 

Section wise quiz questions and much more!
The 5 practice tests -100 questions each are also available separately on their website for $99.
What's more, GBRI also offers student, military, group, small business and corporate discounts. Contact them at pathway@gbrionline.org for more information.
The GBRI team is so confident you will pass your LEED exam by following their recommended roadmap that they are backing it up with a money back guarantee!  Receive a full refund on your exam prep if you do not pass your exam.* 
Let GBRI help you take your career to the next level with your satisfaction guaranteed!
*Some conditions do apply. Registrant must complete entire exam preparation package and recommended roadmap as well as successfully pass all mock exams prior to taking the LEED exam. Should all measures be taken as advised and the registrant not pass the exam, GBRI will refund charges for the exam preparation package purchased. Documentation of exam date and score are required.
Price – $199
What is included in the GBRI LEED v4 Green Associate Exam Preparation Package?
GBRI's LEED v4 Green Associate Exam Preparation Package includes:
Access to 5 LEED Green Associate practice tests with 500+ practice questions and answer explanations.

Each practice test has questions that represent all LEED knowledge domains just like the actual exam. Questions will appear randomly from various concepts and not in a particular order.
Once you have completed the mock exam, review each question and answer even if you selected the CORRECT answer choice to identify your gaps. A score of 85% or higher is a good indicator of being well prepared. 
If your score is below 85%, identify your gaps and review the online modules (available for purchase) as applicable before retaking the practice exam.
The LEED v4 Green Associate online modules are available on their website for $169 and include
-Study Guide
-Self-Paced Online Study Modules
-Flash Cards, Memory Charts & MP3 Voice Files
-Practice Tests (sold separately)
GBRI also specializes in In-Person Exam Preparation & Training.
Green Building Research Institute's Certified Instructor Network spans the world and provides access to quality in-person training for your LEED Green Associate exam prep and sustainability education. Visit their website to view their locations and get yourself registered at a center near you.
Further Read:
7. LEED Green Associate Online Training Webinar by Everblue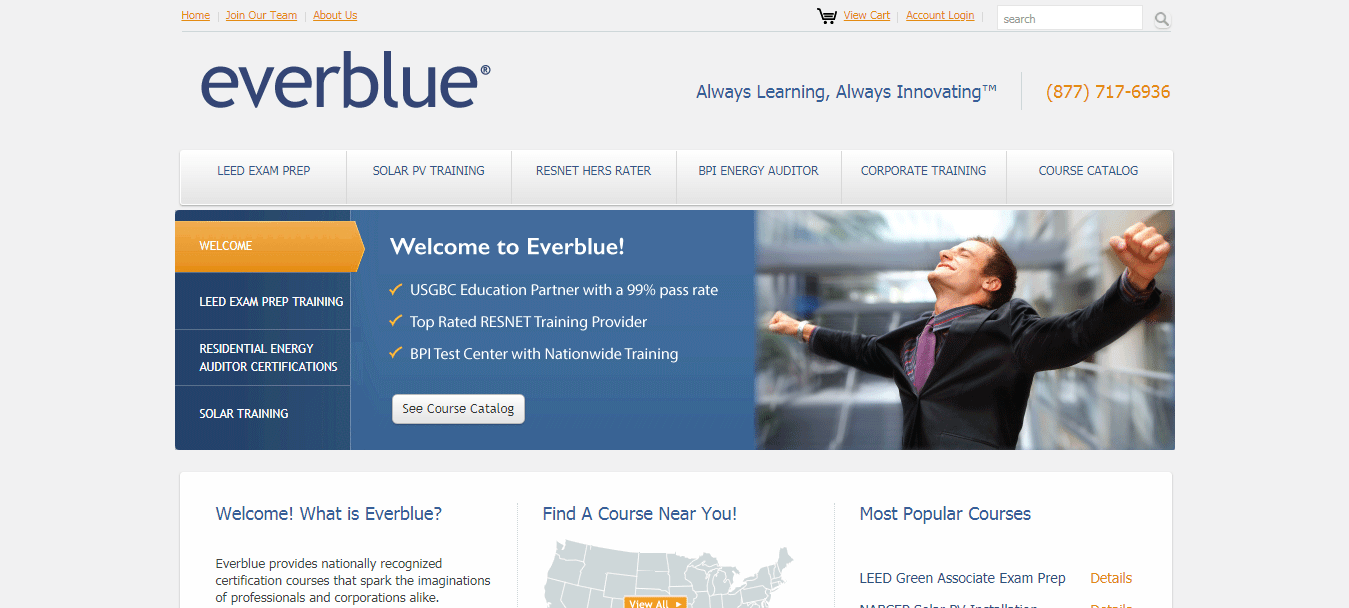 This LEED Green Associate webinar course from Everblue features-
Self-guided e-learning course with access to a LEED Mentor

Access to presentation instantly

Log in and participate any time 24/7 for 6 months

Pause, rewind, or restart presentation at your convenience

Works on most mobile devices 

Includes digital course guide and LEED credit reference sheets

Includes 500+ practice questions
The interactive activities throughout the presentation reinforce learning material and help you gain confidence for your exam.
Price – $399
8. LEED Green Associate Platinum Pack by Green Building Education Services (GBES)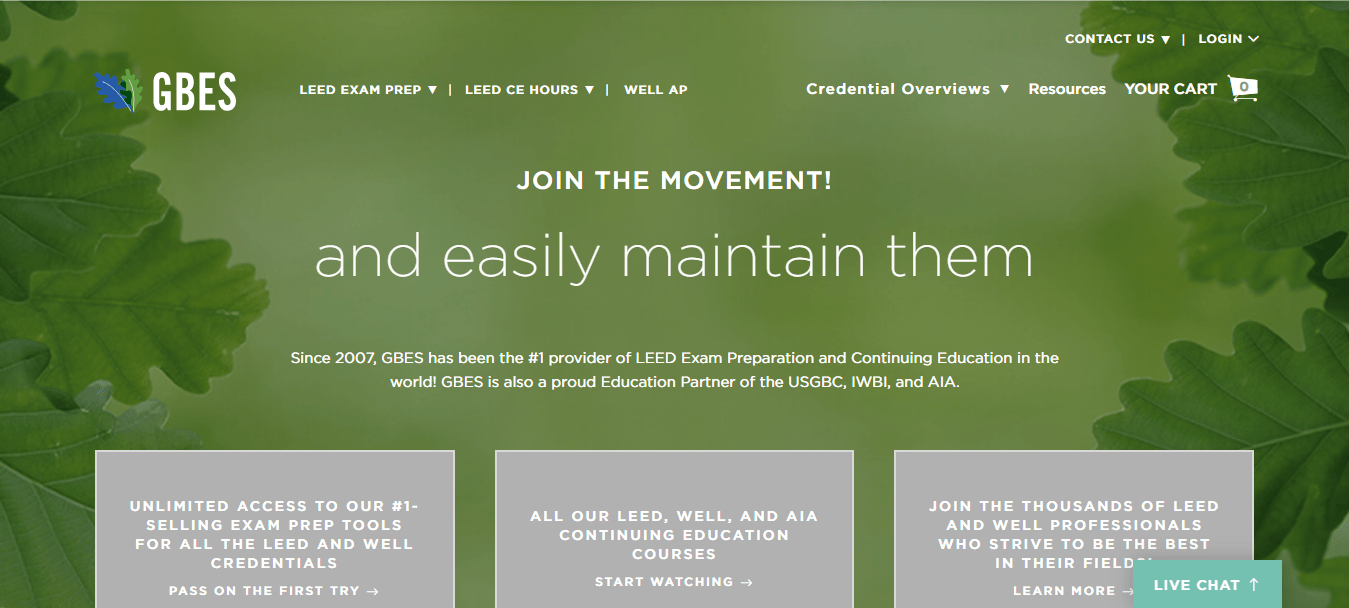 This bundle of LEED exam prep materials from GBES will guide you through the most current green building principles and practices. It includes-
LEED Green Associate Practice Tests for

LEED v4 GA Exam Prep

(600 practice test questions)

LEED Green Associate Exam Prep On Demand Webinar which includes 9 hours of online instruction for the LEED GA exam

LEED Green Associate Study Sheets

400 LEED Green Associate flash cards

LEED Green Associate Study Guide including 287 page study guide (PDF download) and mp3 audio book
Price – $229
9. LEED Green Associate Exam Prep by Green Training USA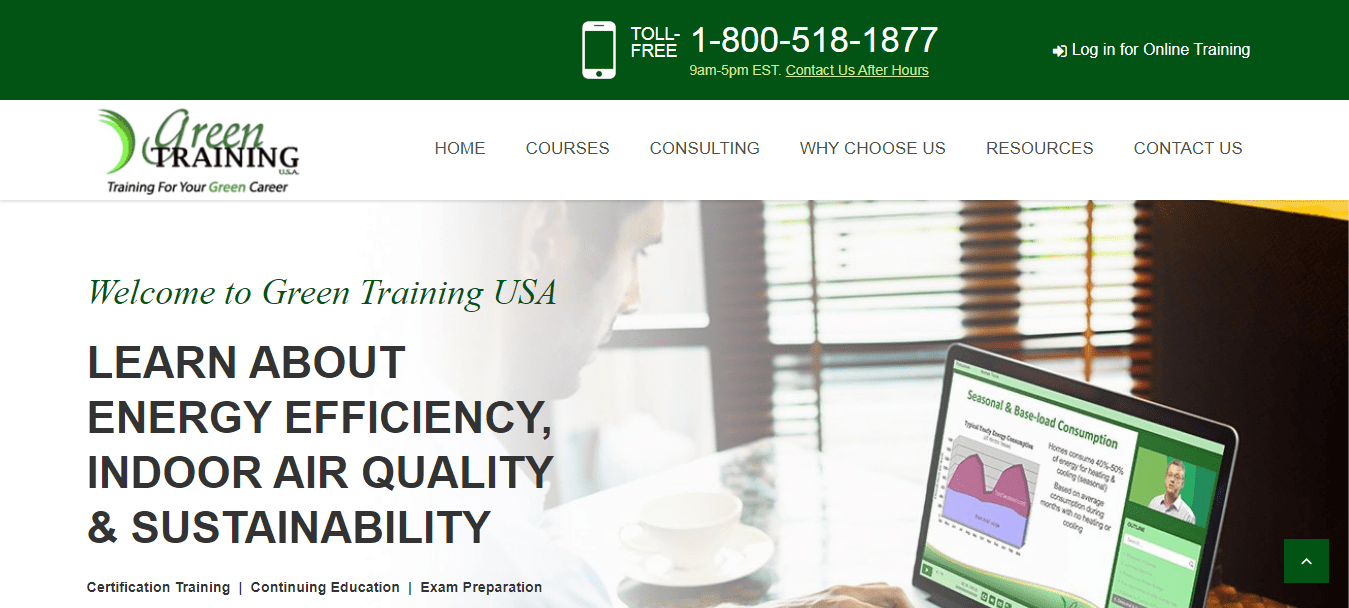 The instructors at Green Training USA claim "90% first time pass rate for certification exams." Their course package includes-
12 hours of online multimedia training with video instructor (90 day access) available 24/7 to enable you to learn at your own pace and review as often as you like

Phone and email access to instructors to answer your questions

LEED Green Associate Handbook

Multiple-choice questions at the end of each module to improve learning and retention

Practice exam questions

Their 300% Iron-Clad Success and Satisfaction Guarantee
Price – $375
10. LEED Green Associate V4 Complete Exam Prep by LEEDUCATE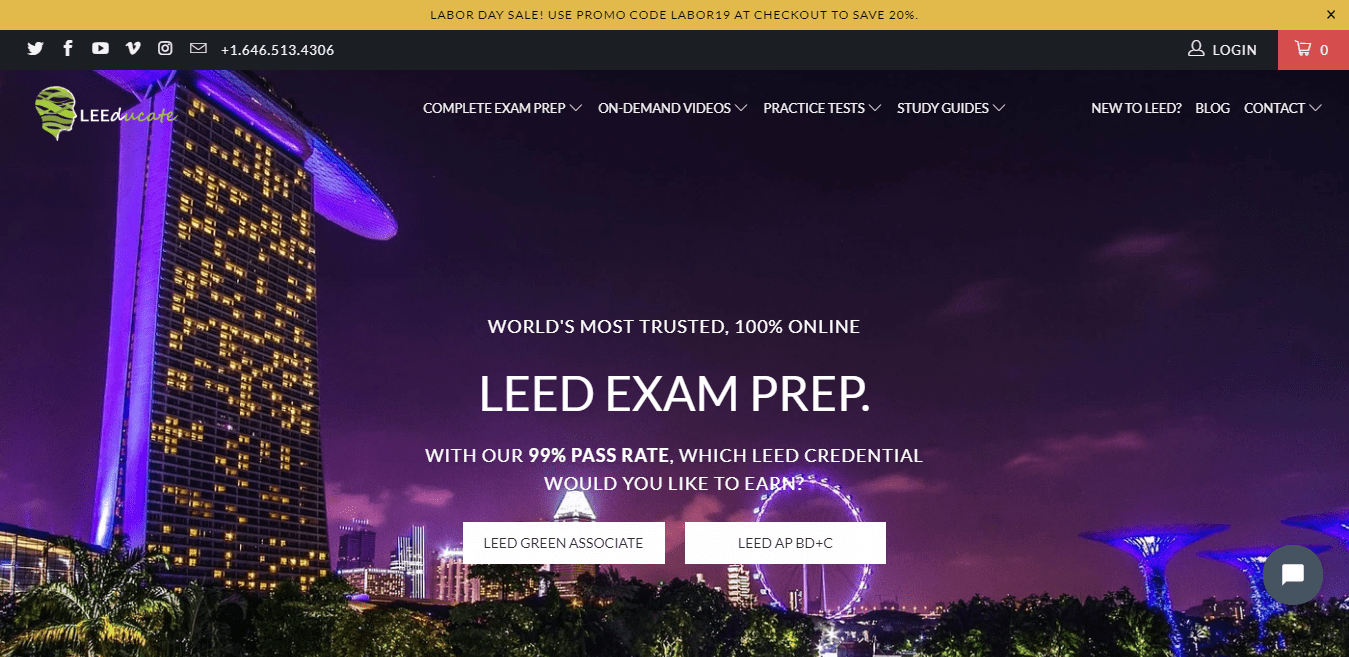 This complete LEED GA exam preparation package contains:
LEED Green Associate v4 exam prep course (9 hours of expert video instruction);

LEED Green Associate V4 Exam Complete Study Guide (Second Edition);
Price – $235
11. RMC Green Building Training: LEED Green Associate Instructor-Led Live Online Courses
For those with three days that they can dedicate to an instructor-led, live online class, RMC's Green Associate training offers one of the most hands-on online courses available. 
The classes run during normal working hours and provide all the fundamental materials needed to pass the exam. In addition to the course itself, registration includes an e-book and reference guide to passing the LEED Green Associate Exam. 
Price: $299.99
12. LEED Green Associate V4 Exam Preparation Course (English) by Karim Elnabawy, USGBC LEED Faculty, GBERA (Green Building Education and Research Academy)

This course includes-
11.5 hours on-demand video

12 articles

27 downloadable resources

Full lifetime access

Access on mobile and TV

Certificate of Completion
Free Online LEED GA Exam Prep Resources:
13.  If you are new to sustainability, green buildings and LEED, take GBRI's FREE course on LEED – This course explores topics such as green building, the green building process, the costs of building green and the role of rating systems such as LEED.
14. USGBC's LEED Green Associate Candidate Handbook is one of the most important documents for you to review when preparing for the exam. It provides the nitty-gritty details of registration, an outline of the topics on the exam, sample questions, and links to free resources covering each topic area in detail. And it is free.
15. The essential LEED Green Associate cheat sheet by USGBC gives a description of exam content areas, which include task domains and knowledge domains.
A few tips to help you pass the LEED Green Associate Exam:
Listed below are a few tips that will guide you on how to pass the LEED Green Associate Exam–
Most of the questions involve applied and critical thinking, so it is extremely important to have a thorough understanding of concepts instead of just memorizing.

Read the exam paper carefully, and then read it again. Likewise, check and recheck all your answers. Use the 'Mark' button to flag questions you don't feel sure about. Since you get 2 hours to complete 100 questions, you can always come back to the 'marked' questions after you're done with the rest.

It is definitely advisable to take a look at the Green Associate handbook found on the GBCI website. The handbook will tell you important information about what is covered in the exam, as well as test taking policies. And then of course you have the GBRI to help you with the study materials.

You can never take enough practice tests. Take loads of them to ensure you have a fair idea of the actual test content.

It is very important to memorize all numbers related to Minimum Program Requirements (MPRs). 

You should have in-depth knowledge of the four ASHRAE standards used in LEED- 

ASHRAE 90.1 – Energy

ASHRAE 55 – Thermal Comfort

ASHRAE 52.2 – Air Filters

ASHRAE 62.1 – Ventilation

When you feel there is more than one right answer to a particular multiple choice question, go with the 'best' answer. For example, implementing a concept that reduces carbon emissions will be a better answer than one that promotes the local economy or saves water. 

Before you start the two-hour exam, you get ten minutes to familiarize yourself with the testing controls along with a scrap paper and a pen. Take those precious ten minutes to recall all the concepts/numbers you've memorized. Jot down the ones you are worried about getting confused on during your exam. 
Please note that the USGBC has a pool of 1000+ questions out of which they frame their 100-question exams, so no two exams will look the same. The USGBC does not share its database of questions with anyone. You are required to score 170 out of 200 points in order to pass the LEED Green Associate Exam and will receive the results at the test center immediately following the test.