Lewis Pugh, the United Nations Environment Programme's (UNEP) Patron of the Oceans, is on a mission that transcends physical boundaries and resonates with the very essence of our planet's well-being. On August 13, 2023, a remarkable and inspiring journey began as Lewis ,an environmental activist and endurance swimmer, embarked on a 315-mile (507-km) swim down the iconic Hudson River. This epic swim took him from the river's source deep in the Adirondack Mountains to its bustling end in the heart of New York City, where he arrived on Wednesday, September 13, 2023, at Battery Park. Lewis Pugh's mission was not just a personal challenge but a powerful statement about the vital role that rivers play in sustaining our planet.
A Swim for a Cause 
Lewis Pugh's extraordinary feat of swimming the entire length of the Hudson River was not just a physical achievement but a testament to his dedication to environmental conservation. Throughout his journey, he aimed to raise awareness about the inseparable connection between rivers and oceans, emphasizing the urgency of restoring, protecting, and respecting these invaluable natural resources. In his own words, "If we want healthy oceans, we also need healthy rivers — it's that simple."
An Extraordinary Adventurer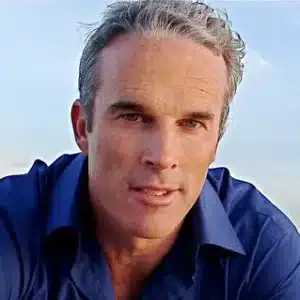 Lewis Pugh is no stranger to pushing the boundaries of human endurance in the name of environmental conservation. He has embarked on breathtaking swims in some of the most challenging environments on Earth, including the Antarctic, the North Pole, the Red Sea, and the Himalayas. He holds the distinction of being the first person to complete a long-distance swim in every ocean of the world. The Hudson River swim, covering a staggering 315 miles, is set to be his most challenging endeavor yet.
Exploring the Interconnectedness of Rivers and Oceans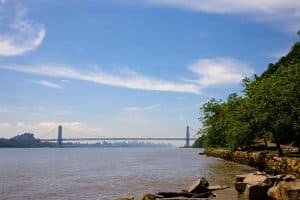 As Lewis swam down the Hudson River, he discovered the intricate web of life that rivers create, connecting freshwater ecosystems to the vast expanses of the ocean. This interconnectedness is crucial for maintaining the planet's biodiversity and ecological balance. Rivers serve as both a source of life-sustaining freshwater and a conduit for transporting essential nutrients to the seas. By showcasing this connection, Lewis aimed to highlight how the health of our rivers directly impacts the health of our oceans.
Facing Nature's Challenges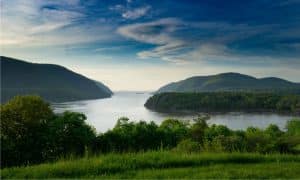 The journey ahead for Lewis Pugh is filled with physical and environmental challenges. From the river's source at Lake Tear of the Clouds in the Adirondack Mountains, he will navigate through rocky terrain, powerful river currents, and potential toxic sewage runoffs during heavy rains. The Hudson River is a diverse and dynamic ecosystem, and Lewis Pugh is committed to understanding and respecting every twist and turn it offers.
A Message Amidst Global Events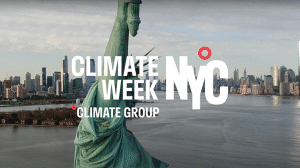 The timing of Lewis Pugh's Hudson River swim was not coincidental. It culminated on Wednesday, September 13, 2023, perfectly aligning with several significant global events: the UN General Assembly Week, Climate Week NYC 2023, and the UN Secretary General's Climate Ambition Summit. These events provided a global platform for Lewis to amplify his message. His presence at these high-profile gatherings underscored the urgency of addressing environmental issues and the critical role of rivers in mitigating climate change and preserving our planet's ecosystems. UNEP Chief Inger Andersen expressed her pride and support for Lewis Pugh's mission, emphasizing the urgency of keeping our planet's "arteries" unclogged. Just as we must care for our own health, we must also protect and restore the health of our rivers and oceans to ensure a sustainable future for all species on Earth.
The Urgent Need to Act
Lewis Pugh's journey down the Hudson River serves as a poignant reminder of the environmental challenges we face today. With climate change accelerating and biodiversity declining, the need to act has never been more critical. The health of our rivers and oceans is intrinsically linked to the well-being of all life on Earth. Protecting and restoring these natural treasures is not an option but a necessity for a sustainable future.
Conclusion
Lewis Pugh's 315-mile swim down the Hudson River was more than just an incredible physical achievement; it was a powerful call to action. His journey highlighted the indispensable role rivers play in maintaining a habitable planet and drew attention to the urgent need to safeguard these vital ecosystems. As we reflect on his remarkable feat during Climate Week NYC 2023 and the UN General Assembly Week, let us remember that it is up to all of us to protect and preserve our rivers, oceans, and the entire planet for future generations. Lewis Pugh's message is clear: our rivers are the lifeblood of our Earth, and we must do everything in our power to keep them healthy and thriving.
In this spirit, consider joining initiatives like GBRI's Climate Change Ambassador Program, where you can engage in impactful 7, 14, and 21-day challenges to contribute to the preservation of our planet.
What is GBRI's Climate Change Ambassador Program?
GBRI's Climate Change Ambassador Program is a transformative initiative that empowers individuals to become active advocates for climate action and sustainability. It offers a collection of short articles and courses covering diverse topics, including oceans, minimalism, tiny homes, and greening buildings, among others. Participants engage in a series of challenges lasting 7, 14, or 21 days, designed to deepen their understanding of climate change and inspire sustainable practices.
Through this program, participants not only learn about the science and impact of climate change but also take practical actions to reduce their carbon footprint. At the end of each challenge, participants earn digital badges, which they can proudly display on their social media profiles to showcase their commitment to environmental stewardship.
GBRI's Climate Change Ambassador Program is a dynamic platform that connects individuals with like-minded advocates, fostering a sense of community and collective action. Whether you're new to sustainability or a seasoned expert, this program provides valuable resources and opportunities for everyone to make a difference in the fight against climate change. Join us in this important journey to protect our planet for future generations.