The Harvey Milk Terminal 1 Case Study
Airports are not traditionally known for their sustainability efforts, but Harvey Milk Terminal 1 at the San Francisco International Airport (SFO) is a game-changer. San Francisco International Airport's Harvey Milk Terminal 1 has set a global standard by being the first airport facility to secure both LEED v4 Platinum and WELL Core Platinum certifications. This accomplishment heralds a new era for sustainable and health-centric design in public spaces. This blog post delves into how the terminal's design, construction, and operation meld the LEED and WELL frameworks to offer both ecological responsibility and enhanced passenger well-being.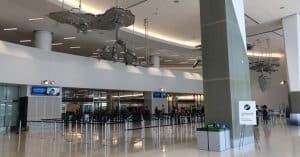 Breathable Comfort: Indoor Air Quality at Harvey Milk Terminal 1
Harvey Milk Terminal 1 incorporates state-of-the-art air filtration technologies to optimize indoor air quality. While LEED's guidelines concentrate on bringing in fresh outdoor air and reducing indoor pollutants, WELL emphasizes third-party air quality verification based on rigorous health criteria. This cross-application ensures the air isn't just clean but also certified healthy, thus elevating the passenger experience.
Harmonizing Energy Efficiency and Well-Being
In terms of energy efficiency, the terminal is a marvel. It consumes 60% less energy compared to similar facilities. Features like self-energizing elevators, energy-efficient escalators, and solar panels contribute to this low energy footprint. Beyond energy savings, WELL-compliant design elements, such as radiant heating and cooling systems, work in tandem to offer an enhanced indoor environment, thereby nurturing well-being alongside sustainability.
Water Stewardship: Efficiency and Quality
The terminal addresses water conservation through low-flow bathroom fixtures, a critical move especially for drought-prone areas. However, WELL adds another layer by focusing on water quality. Real-time water quality test results are publicly displayed, fostering trust and encouraging healthy hydration among travelers. This dual approach sets a new standard for integrated water management, benefiting both the environment and human health.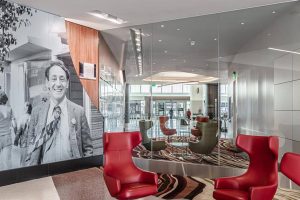 The Quiet and the Sustainable: Acoustics and Materials at Harvey Milk Terminal 1
Harvey Milk Terminal 1 underscores the importance of a tranquil acoustic environment. It incorporates noise-reducing materials that align with WELL's requirements for acoustic comfort, while also meeting LEED's sustainability criteria with low VOC emissions.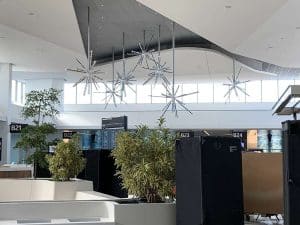 Beyond Aesthetics: Green Spaces and Mental Well-being
LEED promotes the utilization of green spaces for their environmental benefits. WELL expands on this by evaluating the positive impacts these spaces have on mental health and relaxation. This holistic view of green spaces makes them not just eco-friendly but also therapeutic.
The Power of Collaboration
The terminal's success is a result of a multi-disciplinary approach involving architects, engineers, environmental experts, and airport officials. Such extensive collaboration enhances the project's efficacy in achieving its ambitious sustainability and well-being goals.
Concluding Thoughts
Harvey Milk Terminal 1 is more than just a certified space; it's a blueprint for the future. It proves that the principles of environmental stewardship and individual well-being can be applied together to produce compelling and harmonious outcomes.
What's Next?
For those intrigued by this case study and looking to dive deeper, GBRI is in the works of a LEED-specific course article titled "From Blueprint to Wellness: A Guide to LEED and WELL Crosswalks." In this article, we delve into the synergies between LEED and WELL as examined through the lens of this case study.
Did You Miss Last Week's News?
For those who may have missed last Friday's email, we've revamped our best-in-class materials for the LEED Green Associate Exam. Your journey towards certification just got a lot more exciting! Check it out.
Prepared by WELL faculty members, GBRI's WELL AP Exam Prep classes are now available.
Earn a WELL and LEED credential this year, and you'll be better equipped to contribute to the creation of sustainable, health-focused spaces, much like the pioneering Harvey Milk Terminal 1.
Our LEED, WELL, and AIA CE Packages Revisited:
Silver Package: Ideal for fulfilling your LEED Green Associate Continuing Maintenance Program (CMP) requirements with a 15 CE hour bundle.
Gold Package: Satisfy your LEED AP BD+C credential CMP requirements with a 30 CE hour bundle.
Platinum Package: Perfect for professionals juggling multiple credentials, offering self-paced exam prep and CE courses.
Click here to explore our LEED, AIA and WELL membership options.
Reinforcing the Value:
When you choose GBRI, you're supporting a small business with a deep commitment to sustainability and education. Complete your Continuing Education (CE) hours with us and be part of a larger mission to create a sustainable future for all.