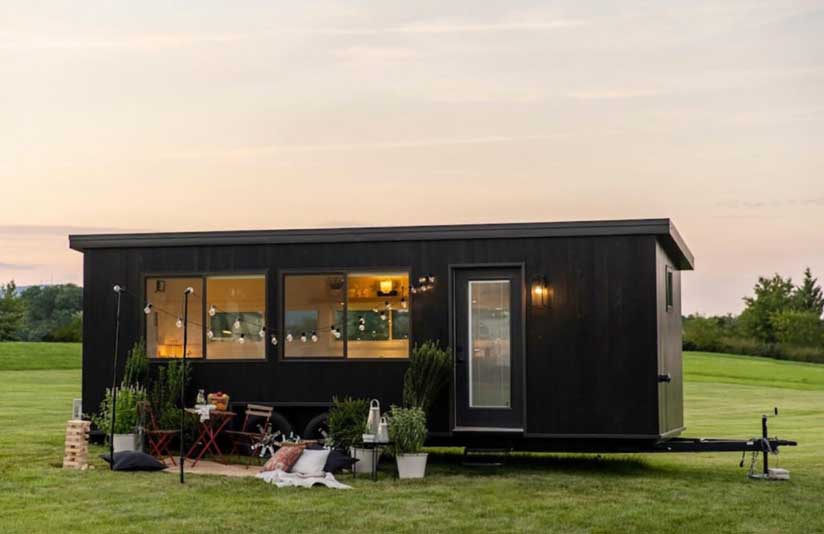 Swedish furniture retail giant IKEA is known to create clever furniture to fit into small spaces – but this time, the company has gone a step further by designing its first ever sustainable tiny home in partnership with Escape (an RV and tiny home builder) and Vox Creative.
The 187-square foot off-grid home on wheels is not just a perfect example of style and sustainability, but is pretty affordable too. Its main aim is to inspire people to lead a sustainable life, no matter where they are.
"We built a sustainable tiny home from the ground up to better educate and inspire consumers to bring sustainability into their own lives," the brand says. IKEA also hopes this project will "[generate] awareness of the tiny home and [illustrate] the big impact that small, daily decisions can make for a better, more sustainable world."
This tiny home is actually a customized, upgraded version of Escape's Vista Boho XL model and was completely ready by March this year. IKEA's original plan was to take the tiny, mobile home on a tour across the US, stopping at various sustainable events around the country, letting people explore the small space. However, COVID-19 pandemic forced the company to change its plans.
So now in place of an actual tour, IKEA and Vox Creative partnered with Curbed to launch a virtual tour of the tiny home that allows people to learn so much about the tiny home lifestyle.
Apart from showcasing the home's interior and exterior, the tour also provides viewers tips on how they can make their own homes, whether big or tiny, more environmentally friendly.
Interesting Features of IKEA's tiny home
Listed below are some interesting features of IKEA's first tiny sustainable home:
The entire interior of this tiny home features white-painted sustainably-grown pine panels that give it a more spacious look and feel.
To give the space a modern and stylish touch, the kitchen has sleek black colored cabinets that are actually made from recycled plastic bottles.
At the heart of the home lies the NORDEN gateleg table that can be used as workspace or as a dining table with built-in storage. This table can also be collapsed when not in use.
The kitchen has a gas-free portable induction cook-top that can be stowed away when not in use.
The solid wood and veneer kitchen countertop is made with the whole tree (including the branches and twigs) which means there is far less waste involved in making it.
The bathroom sink is equipped with a low-flow faucet and also features a walk-in shower with a water-saving BROGRUND thermostatic shower head.
The bathroom is also furnished with a NORDRANA hanging storage crochet crafted by Vietnamese artisans under fair-trade conditions.
Even the towel stand in the bathroom is made from 100% renewable materials.
Lastly, this sustainable tiny home comes equipped with solar panels that meet its energy requirements and also includes IKEA's energy-efficient appliances and sustainable furniture.
IKEA's Other Sustainability Initiatives
IKEA is well known for its vision to create a future that is sustainable and free of waste. This is why the company is always looking for ways to make more from less. Throughout its value chain, the company tries to use renewable and recycled resources as efficiently as possible to ensure that they end up creating value rather than waste.
Towards this end, the company has announced that all the plastic used in their home furnishing range will be based on renewable or recycled material by 2030. IKEA banned the use of plastic straws from all of its stores in the UK and Ireland in 2018.
It is also on its way of phasing out single use plastics and replacing them with disposable alternatives made from 100% renewable sources. Further, the company keeps looking for smart and planet-friendly ways to prolong the life of its products across its entire network of stores. For example, customers in Belgium are presented with five options to give their old furniture a second life.
Another impressive environment-friendly initiative of the IKEA group is its commitment to produce as much renewable energy as it consumes in its operations. Since 2009, the IKEA group has invested EUR 1.7 billion in renewable energy. They have installed around 750,000 solar panels on IKEA buildings and have committed to own and operate 416 offsite wind turbines.
Also, the company goes to great lengths to ensure that the wood used to make its wide range of furniture is responsibly sourced. For example, all the acacia wood that is sourced from Vietnam comes from FSC certified plantations.