Bag Tax
Citing combating climate change and ocean plastic pollution, increasing numbers of states, counties, and cities are implementing fees on one use, take out bags. Most of the fees center on plastic bags. Certain municipalities also establish fees for the use of paper bags.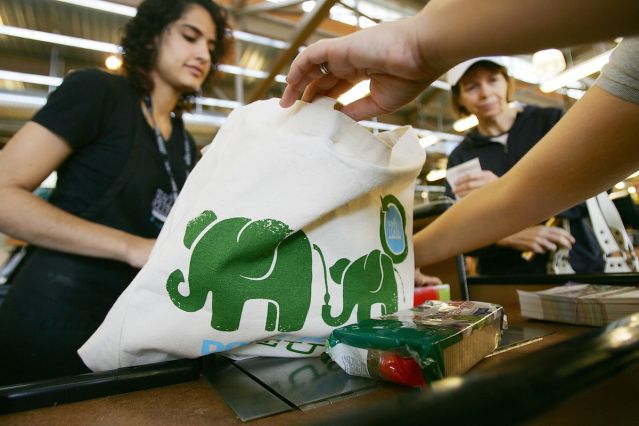 In August 2014, California became the first state to enact a state wide ban on single-use plastic bags at large retail stores. The state bill also requires a charge of at least 10 cents for reusable plastic, recycled paper, and compostable bags.
Though no state wide legislation exists for a ban on plastic bags in Hawaii, every major Hawaiian county enacted bans on non-biodegradable plastic bags. Paper bags containing fewer than 40% recycled material also received bans. From 2011 to 2013, Kauai, Maui, and Hawaii counties enacted bans. In 2015, Honolulu county joined the other Hawaiian counties in banning non-biodegradable bags.
The District of Columbia (D.C.), in 2009 passed a bill banning the use of non-reusable, non-recyclable plastic carryout bags. Every other disposable bag is assessed a fee of 5 cents per bag.
North Carolina imposed a ban on all plastic bags in the Outer Banks, a series of barrier islands and common tourist attractions. The law encourages the use of 100% recyclable paper bags by providing them free of charge should customers not have their own bags.
Current Legislative Activity
During the legislative sessions from 2015 to 2016, 77 sponsored plastic ban bills, across 23 different states reached the floor. Out of the 23 states, 20 introduced 71 bills to curtail the prevalence of disposable carryout bags. The bills enacted bans, fees or improved recycling programs. Unfortunately, none of the bills passed.
Three states, Arizona, Idaho, and Missouri, passed state wide bills. These bills overruled municipality level laws and ordinances. Effectively, these states prevented any locality within the state from regulating the sale and use of plastic bags.
Does a Bag Tax Work?
In February 2011, the U.K. Environment Agency released a study citing the amount of uses reusable bags require to reduce the global warming potential. The study included a single use High-density polyethylene (HDPE), or common plastic bag, a paper bag with low-density polyethylene (LDPE), non-woven polypropylene (PP), and a cotton bag. With never reusing the shopping bag, the results indicate
Paper bag used 3 times net fewer greenhouse emissions
LDPE bag takes 4 reuses to achieve lower lifetime emissions
Non-woven PP requires 11 uses to reduce emission
Cotton bag takes 131 instances of use to reduce total emissions
If the shopping bag is reused as a trash bin liner, the numbers rise to;
Paper bag 4 uses
LDPE 5 grocery loads
Non-woven PP 14 trips
Cotton bag 173 loads
Plastic Bag Bans Ecological Impact
In a different study by the Equinox Center, the Impacts of Plastic Bag Bans studied the before and after percentage of bag use of California's bag ban.  The cities of San Jose, Santa Monica and the County of Los Angeles, saw a rise in the use reusable bags from a scant 5% to 45% of bags used. Paper bag use rose from 3% to 16%, while no bag rose from 17% to 39%. The study goes on to illustrate the environmental impact stating "The resulting change in the Bag-Use Profile is better overall for the environment than the current profile." [emphasis original]. The study cites two key aspects including;
A PBB (Plastic bag ban) + fee successfully reduces the volume of single-use bags.
Less energy is required, more water is required, less solid waste is generated and fewer GHG (Greenhouse Gases) are emitted from the life cycles of bag-use achieved by PBB + fees
According to the study, implementation in San Diego alone could account for reducing Energy, CO2 emissions, Solid waste, and Water conservation.
74 million megajewls reduction
6,418-ton reduction in CO2
270,000 kg reduction in solid waste
30 gallon increase of water
Economic Impact
The study found local economies were not affected in the long term by the policies.
Retailers were exposed to increased cost initially. In San Francisco and San Jose, as consumers began to use more reusable bags, retailers did not "sustain negative impact."
Consumers: averaged $7.70 per household in accumulated fees and purchasing of reusable bags.
Cities: saw the largest impact in litter reduction, litter removal services aren't required as much
Plastic Manufactures: the study was unable to find any information on reduction in costs. Plastic manufactures will switch to reusable bags using polyethylene substances.
Other Sustainable Incentive Taxes
Currently the US Federal Government is raising awareness and promoting the notion behind imposing a tax on CO2 emissions.
The private sector already contains examples of self-taxed carbon emissions. Many technological firms including Microsoft and Adobe impose carbon taxes on a departmental basis. Energy use is calculated to determine the amount of carbon used by each department. The proceeds of the taxes funnel into a fund seeking alternative energy and energy reduction measures.
Image Source: http://www.metro.us/