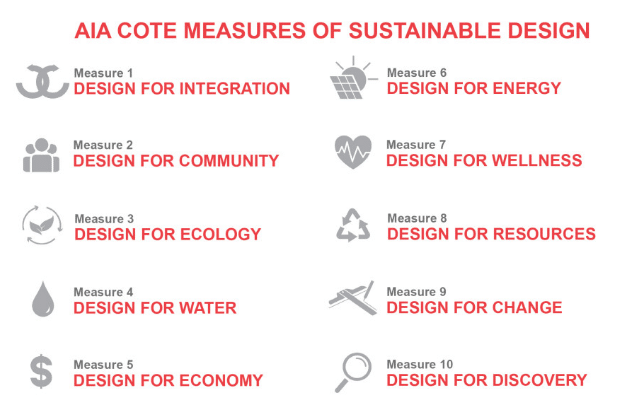 AIA COTE TOP 10 doesn't need an introduction but ever wondered what sustainability criteria is used to judge the best projects?
The green building industry's best known awards program for sustainable design, AIA COTE's Top Ten Green Projects, was established as a means towards recognizing and learning from the exemplars of sustainable buildings. The Top Ten program has very extensive submission requirements in which applicants must include narratives, metrics, photographs, drawings and diagrams, unlike many other design awards programs. The top ten is also very unique as the focus is on design, not technical performance, such as LEED certification.  The national American Institute of Architects (AIA) established the Committee on the Environment (COTE) in 1994 with a focus on establishing a definition for sustainable architecture. Following ten measures of sustainability were used as a standard to judge AIA TOP 10 for the last 20 years:
Number 1 – Design and Innovation
Number 2 – Regional Community Design
Number 3 – Land Use and Site Ecology
Number 4 – Bioclimatic Design
Number 5 – Light and Air
Number 6 – Water Cycle
Number 7 – Energy Flows and Energy Futures
Number 8 – Materials and Construction
Number 9 – Long Life, Loose Fit
Number 10 – Collective Wisdom and Feedback Loops
Since it's inception, the Top Ten winners have consistently raised the bar. Research for the April AIA COTE report, "Lessons from the Leading Edge", illustrated the gains that Top Ten winners have made and trends in sustainable design. For example, energy savings have increased from 51% in 1997 to 63% in 2015. "There's clearly been a trend toward very high performance buildings," 2015 judge Alex Wilson said.
So now in its 20th year, the Top Ten program will raise the bar even further with its new measures that are updated based on sustainable design trends.
So while some of the measures, such as energy and water, have largely remained intact, new topics have been added. For example, the "Wellness" category is new and focuses on the well-being of the building's occupants. Requirements have changed such as there no longer being an age limit to the projects. Before, buildings couldn't be older than 3.5 years; now projects will be considered only after at least 12 months of occupancy in order to evaluate the functionality of the design.
While not a new rule, it is important to note that all applicants are required to be signatories of the AIA 2030 Commitment, which seeks to achieve carbon neutrality in the architecture industry by 2030.
The new Top 10 Measures of Sustainable Design are:
Design for Integration: Applicants must give examples of how individual design strategies support the triple bottom line of social, economic, and environmental value.
Design for Community: Applicants must describe how community members were engaged during the design and development process, so that they can benefit from the project.
Design for Ecology: Applicants must demonstrate how their design benefits natural ecosystems in the presence of human development. Metrics include the percentage of the area designed to support vegetation or is covered by native plants that support native or migratory animals.
Design for Water: Sustainable design must conserve and improve the quality of water. So applicants must illustrate how various water systems flow through the building and site, including water conservation and stormwater management strategies. The 2010 winner Omega Center for Sustainable Living, for example, has a machine that uses plants and natural bacteria to make 100% of black and gray water cleaner at the end of the cycle than at the beginning.
Design for Economy: This category includes cost-effective design considerations, economic performance analysis, and notable return-on-investment outcomes.
Design for Energy: Projects must demonstrate energy savings while still improving upon building performance, function, comfort and enjoyment.
Design for Wellness: Applicants must demonstrate strategies that support the health and wellness of the occupants and include strategies such as optimizing daylight, indoor air quality, connections to the outdoors, and thermal, visual and acoustical comfort for visitors both inside and outside the building. 2012 winner Perkins + Will, for example, has floor to ceiling glazing that offer outdoor views in 98% of the spaces and daylight autonomy in 84%
Design for Resources: This category includes the informed selection of building materials and products, such as the percentage of recycled content of building materials by cost. For eample, 2015 winner, University Center – The New School has an advanced sensor system throughout the space, which increases ventilation rates automatically if VOC levels get too high.
Design for Change: In this category, applicants must describe how the project is designed to facilitate adaption for other uses.
Design for Discovery: Here, applicants must describe ways in which lessons have been shared with a larger audience in the form of publications, lectures, etc.
The submission process for the Top Ten Awards is officially now open.
Will your project be participating in the new Top Ten? Interested in learning more about the new measures and previous projects? Check out GBRI's courses on AIA COTE's measures and …..
Share the post "Raising the Bar in Sustainable Design: AIA COTE's new measures of sustainable design"