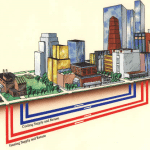 District energy systems have been around in this country for over a century, quietly providing heating to city centers, universities, and hospitals across the US. Today this once sleepy energy technology is enjoying a renaissance as rising energy costs and climate change highlight the need for efficient, low-carbon, energy systems. Already well established in Northern Europe, a newer generation of district heating (and cooling) systems are tapping into waste energy streams and using renewable resources to dramatically reduce carbon emissions and stabilize energy costs.
So what, exactly, is district energy? District energy is a system whereby steam or heated or chilled water is produced at one central plant, and then piped underground to individual buildings (commercial or residential) where it is used to provide hot water, heating and air conditioning.  While district energy is a hot topic for today's urban planners, such systems can actually trace their origins back thousands of years to the heated public baths of Ancient Rome.  While early versions of district-wide heating have been in use in Europe since the middle ages, the first such system in the new world was installed at the US Naval Academy in Annapolis in 1853, and the first commercial system launched a few decades later in 1877.
The reason for the sudden surge in interest in this ancient technology is simple – it is proving to be a greener, cleaner energy solution. District energy's central method of production is more effective than having each separate building produce its own source, and many district energy systems also make use of non-fossil fuel sources such as geothermal energy, biomass and clean wood construction waste. Greater efficiency combined with clean fuel sources equates to a smaller carbon footprint, and what's more, centralizing the means of energy production is also more cost-effective, making district energy budget-friendly as well as eco-friendly. In fact, a  recent report by the United Nations Environment Programme (UNEP) found that district energy systems, if adopted worldwide, could reduce global energy consumption by up to 50%, with a corresponding decrease in associated costs.
Currently, district energy systems are used by several major metropolitan areas, including downtown Boston and Cleveland and the central business districts of Seattle and St. Paul. They are also in place in several major colleges and universities, including Princeton, Cornell and UCLA, and provide the power to run hospitals such as the New Orleans Medical Center, the Battle Creek Veteran's Affairs Medical Center in Michigan, and the world's largest medical complex, the Texas Medical Center in Houston. In fact, this last-named system alone is projected to reduce carbon emissions by some 305,455 tons per year, which is equivalent to removing 53,000 cars from the road.
District energy systems are particularly hot these days as builders realize that tapping into such systems significantly increases the chances of earning the coveted Leadership in Energy and Environmental Design (LEED) rating. While the LEED program has been in existence since 1993, the first guidelines for district energy were developed in 2008 in an attempt to promote wider adoption of the sustainable technologies that can be supported by district systems.
While expensive to implement at first, the long-term cost-saving benefits of district energy programs have made them eligible for funding at the federal and local level. Government agencies offering grants to support the planning, testing and implementation of district energy plants include the Department of Energy, Environmental Protection Agency, United States Department of Agriculture, Department of Homeland Security, Department of Defense (for military applications) and the National Laboratories. At the state level, New York, Massachusetts and California all have grant money earmarked for supporting energy efficiency projects including district systems.
As the idea of district energy grows more popular, so does the need to educate professionals on just how these systems operate and how they can be designed to best suit each potential application. Continuing education in the field is necessary for heating and cooling industry executives, as well as equipment manufacturers supporting those industries. In addition, such education can also benefit professionals working for utility companies, municipalities, medical centers, military bases, universities, airports and other large-scale energy consumers.
GBRI is pleased to announce a FREE webinar  with Con Edison titled "Steaming up your LEED points with district Steam energy".  Con Edison is one of the largest investor-owned energy companies in the United States. The company provides a wide range of energy-related products and services to its customers through its subsidiaries. The focus of this course is on Steam District Energy and how it relates to the LEED rating system. As a LEED Accredited Professional you will be able to assist building projects to become acquainted with the benefits of district steam and acquire points for their building projects. The course is approved for 1.5 CE/LUs by GBCI and AIA.
Register for the course "Steaming up your LEED points with district steam energy"
Access this course along with hundreds of courses and articles with a Learning-Hub@GBRI subscription
Credits: Maria Scinto, Jeslin Varghese, Paulina Marinkovic